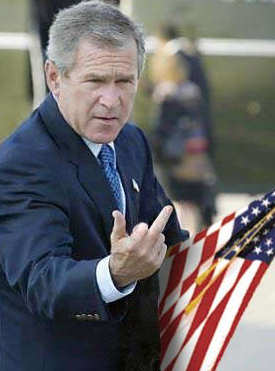 Oh, the schadenfreude is just over-the-top here:

Apparently, there is a link (done by a Republican, mind you) stating that the more mentally unstable a person, the more likely he or she is to like George W. Bush. I mean, I can't even tell you how happy this makes me. Of course, this (regretfully) does not mean the flip – that someone who likes George W. Bush is mentally unstable – but this is good enough for me.


"Our study shows that psychotic patients prefer an authoritative leader," Lohse says. "If your world is very mixed up, there's something very comforting about someone telling you, 'This is how it's going to be.'"

…

"Bush supporters had significantly less knowledge about current issues, government and politics than those who supported Kerry," the study says.

Lohse says the trend isn't unique to Bush: A 1977 study by Frumkin & Ibrahim found psychiatric patients preferred Nixon over McGovern in the 1972 election.
Frankly, this isn't very suprising if you think hard about it, even rationally and without distaste for GWB. One of the things that many folks claimed to like about GWB was that he was strong willed. Of course, even then most rational people knew he was WRONG, but damnit he was going to stick to that wrong-headedness instead of, you know, entertaining debate and perhaps changing his mind about something. (Cause that would be flip-flopping! How dare he!)
Such wrongheadedness has led to civil war in Iraq and a complete erosion of the United States' credibility in foreign affairs, but at least he's not a flip flopper! Crazy People Unite!