The Failure of Leadership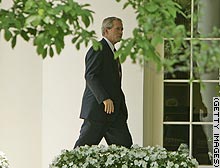 The fundamental problem with George W. Bush is not that he's stupid; despite the fact that he's said enough inane, idiotic things (many of which are printed on a roll of toilet paper I own), he's not a stumbling moron.

It's that he's not smart. There's a big difference. And the biggest evidence of that is that he is remarkably good at (only?) one thing – sticking to his guns, having unyielding faith in the belief that he's doing the right thing. Being wrong is worse than doing something wrong because you think it's right.

This is not particularly unique insight, but it's why Bush and Cheney are in a particularly bad spot with regard to the war in Iraq. If it's really the "fight of our lifetimes" as they've claimed, why won't they dramatically increase the troops level? That would require a draft, and they simply won't go there. I think there are more people that would have – not now, I doubt – supported the war, at least for longer, if we could be convinced that this was similar to WWII, as they positioned it?
In WWII, not only was the troop level roughly 5-10X the size of that in Iraq (just a guess but I know I'm erring on the LOW side), but people in the U.S. were all asked to help. Savings on products they needed for production, buying war bonds, etc.

Bush and Cheney have asked for none of that – which suggests that even they don't believe what they're saying. If Bush is wondering why things went so wrong, how even GOP congressmen could be leaking things to the press about how dissatisfied they are with the war, it's because of this. To follow a true leader, the only basic requirement is that you believe in that leader. And to be credible, you certainly have to believe that what you are saying is the truth, and be passionate about it.