No, it's not about Mexicans, I swear!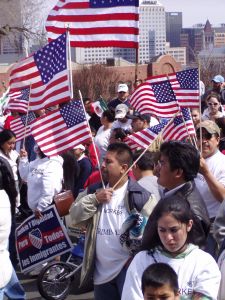 The GOP stance on immigration has always seemed to me like a negative reaction to the "browning of America" as some have called it. Given that the worst elements of the Republican party cater to racism (the "states rights" backbone of the party platform started as a way to keep slavery legal in the South), it's hard to read the new zeal against immigration as anything but veiled (and not so-veiled) racism.

But hey, what do I know? The GOP insists that's not the case. But this is just too funny. The California Republican Party has now hired two major players who are not citizens, using the same Visa they insist is too flexible. I think that only applies to non-whites, though.

Christopher Matthews, 35, a Canadian citizen, has worked for the state GOP as a campaign consultant since 2004. But he recently was hired as full-time deputy political director, with responsibility for handling campaign operations and information technology for the country's largest state Republican Party operation, California Republican Party Chairman Ron Nehring confirmed in a telephone interview this week.

In the nation's most populous state — which has produced a roster of nationally known veteran political consultants — "it's insulting but also embarrassing … to bring people from the outside who don't know the difference between Lodi and Lancaster … and who can't even vote," said Karen Hanretty, a political commentator and former state GOP party spokeswoman.

Wait, it gets funnier. Matthews was hired by Michael Kamburowski, the state GOP's chief operations officer, who is … wait for it … an Australian citizen.

...

As for the H-1B visa program in specific, it's supposed to focus on "specialized workers" whose unique skills are unavailable in the American workforce. According to Labor Department regulations, employers are supposed to make a good-faith effort to hire Americans, and then rely on "specialized" immigrants if necessary.

So, in other words, the California Republican Party is suggesting that in the largest state in the Union, there were no qualified people to serve as the state deputy political director.
What a bunch of hypocritical nincompoops.