What's Worth Watching?
Yes, it's that time of year, when new shows begin and I write a post that causes at least one person to comment, "Man you watch a lot of TV."

I do it because I care.

And because I'm lazy. But without further ado, below the fold are my writeups of what we're watching thus far this year.

Sunday:

Not much to see here. I know that Desperate Housewives is on, but as much as I could tolerate it at times in the past, I have zero interest in doing so this year. I caught the last five minutes of it this week which Abby watched as I made dinner, and I saw nothing to sway my opinion. (By the way, apparently the verdict is in: Me calling the show "Designing Women" is not funny.)

Which is a good thing, because football is on Sunday nights. Plus, come January, the final season of Battlestar Galatica will be back on, and that trumps all.

It's worth also stating that Curb Your Enthusiasm is something I've watched the first four episodes of, and they've gotten progressively worse. It's such a self-indulgent show that when it doesn't work, it's truly annoying. The last time this happened, I stopped watching – only to have everyone tell me that it had really started to get good (which it had). It's earned a few more episodes for me, but not much more than that.

(Oh, for the days of The Sopranos, Six Feet Under or even a good Entourage or two.)

Monday:

If there isn't much we want to watch on Sunday nights, Monday is chock full of …well, stuff. Of course, there's Monday Night Football which I will always watch, but it's not always what is on. There is Heroes, which has had two nice episodes though nothing special. I do appreciate Hiro going back in time, and the fact that Claire has started asking about the benefits of her mutation (organ donation, etc.) but it's not great. And the shameless plugs for that ugly Nissan is pretty offensive. Still, it is truly entertaining, and Kristen Bell hasn't even showed up yet.


We watched the first episode of Journeyman and I was completely unimpressed. Boring actors, a premise that seemed woefully underdeveloped – and, while I acknowledge this is location specific – preposterous representations of San Francisco. In one episode, really? You had to have a six bedroom looking home with a view of the bridge? Sigh.

On the other hand, Chuck has been amusing enough to keep us interested. It's like Alias without all of the self-importance and crying. It's not laugh out loud funny, but it is tongue-in-cheek enough to be well worth it, and the fact that the hot blonde spy has been in her underwear in each episode is not a deterrent.

How I Met Your Mother continues to be funnier than I give it credit for, although curiously the point of the last episode revolved around Ted being a complete douchebag to two hot girls from New Jersey, which seems out of character. Still, the Slap Bet and Barney alone are worth the 22 minute investment.

Aliens in Americawas also funny, though it seems poised to go either way at any moment. It's got genuinely funny subject matter ("Who here is afraid of Rajah?" "Rajah, tell us about your Muslimism.") but I'm just not ready for the CW to have a truly funny show yet.

Tuesday

Damages: A summer show that continues, this is a truly impressive drama, and I generally don't much like Glenn Close. It's both an interesting legal show, but wrapped with an ongoing murder mystery that is truly compelling. Close and Ted Danson are particularly good, but this show succeeds because everyone in it does a great job.

I am completely hooked on The Biggest Loser, and I don't think it's just because I have a good amount of weight to lose myself. It's genuinely inspiring, and also a good competition. While I know it's not normal for people to lose double-digits worth of pounds per week, the show teaches lessons we could all learn and watching people gain confidence and surprise themselves with their abilities is always good TV.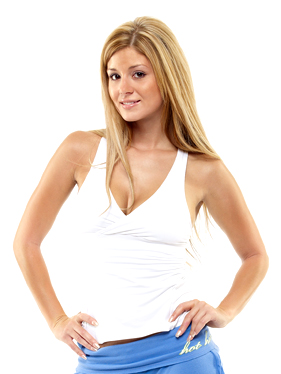 My brother has turned away from Beauty and the Geek, and I suppose I know why. The show isn't much different than it started – the big surprise this season is that there's a male beauty and a female geek – but it's still, much like The Biggest Loser, always nice to see people grow, if only a little. It doesn't hurt things that Rebecca, the beauty who's fooling around with Sam (the mimbo), is perhaps the hottest woman on reality TV.


The most pleasant surprise of the season for me thus far is Reaper, a show based on a funny premise: A guy turning 21 finds out that his parents sold his soul to the devil before he was born, and now he has to go to work for Satan. The devil is played by the father from Twin Peaks, and the writing is sharp, funny and not too over the top. It's actually funny, and I'm sure no one will watch it until a few sub-par episodes air, and then they'll all think I'm crazy. Sigh.


Wednesday:

Top Chef, is of course, over, but I thought I'd chime in that this was perhaps the best season ever. Casey was everyone's favorite, but no one could honestly argue that she deserved to win after her final performance. Hung, on the other hand, did deliver, and really earned his title. Is he my favorite chef? Nope. Would I be happy to eat food he made? Absolutely.

I had to be pressured into checking out Kid Nation, but so far, it's pretty good. The kids are often way more mature than their adult counterparts, and some are downright hilarious. The fact that none of them get kicked off (though any can leave voluntarily) is an important thing, but while the show isn't compelling, I am continuing to watch.

On the other hand, I've given up on America's Next Top Model. Tyra Banks is just way too annoying – I glanced in on the first episode, and she was singing to a can-can dance about…herself. Seriously? I just don't care.


The first week's disappointment was Bionic Woman, but the second episode gave me some hope. Too many of the actors, including star Michelle Ryan and Miguel Ferrer, deliver their lines SO flatly that I have to think it's intentionally directed that way, but it's a bad choice. So far, Katee Sackhoff has out acted everyone else (as the first, flawed bionic woman) and also seems to have a more compelling character. Um, that's not great.

The American version of Kitchen Nightmares was, in its first episode, pretty entertaining, though things not only wrapped up implausibly fast but were a little lamer as Ramsey had bought the entire kitchen new, top-of-the-line equipment. Oh, you say things work better with $25,000 worth of new stuff? Good to know.

I want to like Dirty Sexy Money more than I do, but it's a black comedy so I will keep watching for awhile. The tone is awkward at times, and it has the kitsch of Ugly Betty with a subject matter I find more entertaining, so that's good. But much like Aliens in America this show feels ripe to go off the rails.

Wow, that's a lot of TV for one night, and Lost isn't back on the air yet...

Thursday:

Thursday night is Survivor night, and this year it's in China. It's great thus far – the thing about the show is it manages to recruit people who are NOT huge fans, which actually works because people make dumb mistakes. It's fun watching people do that. I'm a huge fan of James, the gravedigger (yes, that's his profession), not just because he is admittedly shy, but also because he was stunned that he was the only person who did some research in survival, and how to live off the land, etc. James, I'm shocked too. Jeff Probst remains the best host on TV – when one contestant oddly stripped down for a challenge this week, Probst simply narrated, "We continue…Dave, still naked."

I lost interest in Ugly Betty, but Abby absolutely loves it. I don't mind it – it's smart and snarky, but I just have no desire to watch.


The Office is, of course, one of the best shows on TV. The hour long format is both great – more of something I love – and not quite successful. Still, I can't complain, and I doubt I'll ever stop watching.

CSI should have taken a ding for the worst commercial in history for the premiere episode, but the show itself was very good. It's a great, well put-together show. Not much more needed to say about that.

Friday:


Finally, we get the return of the best show on TV, Friday Night Lights. I'm reasonably sure – like others – that it doesn't make it another season, and that the writing on the wall will cause the show to make more than a few bad choices. Still, even a halfway decent version of this show is better than most everything else. Do yourself a favor and watch it.

Also watching: The Wire (on DVD), Tim Gunn's Guide to Style, Hidden Potential, The Contender, Pushing Daisies (haven't watched yet, but taping), and a whole host of others.

Whew! Any shows I haven't mentioned (a small list, it'd seem) that you think others should be watching?