Barack Obama: This Moment In Our History.
It seems worth recognizing the history of tonight, even if Hillary Clinton holds her hands over her ears and mind, that the Democratic party has nominated Barack Obama as its candidate for the 2008 election. That's really impressive, not just because the party that shoots itself in the foot so easily has chosen the best, most inspiring and relevant choice for the job, but the more obvious fact that a bi-racial candidate is the nominee for the highest office in the world. (Note that I used the term bi-racial - to call him African-American, as everyone seems to do, seems to ignore his white mother, doesn't it?) And despite what some pollsters may tell you, he's got a better than 50% chance to win in November.

That's really quite impressive. My two-week old daughter, not to mention all my nieces and nephews, will never really know a world where this seems like an impossibility. In a wonderful country that nonetheless needs some serious change, Obama is all that and a bag of chips, to resurrect a bad saying.

On the other hand, Clinton's speech just now was pretty horrible, though thankfully not mean-spirited. Read below the fold for more.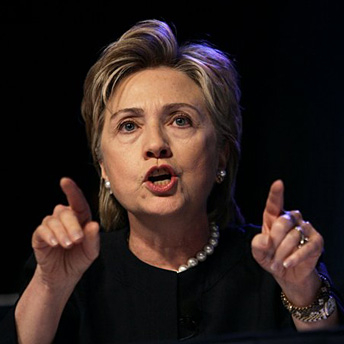 I have little doubt that as she 'talks to party leaders' over the next few days, she'll publicly suspend her campaign or some other euphemistic means of acknowledging reality, but really? Senator Clinton, you couldn't spend two minutes acknowledging the delegate count? Praising Obama for what he's done and represents? The worst part of this primary season has been the realization that the crazy right-wing hatred of the Clinton was, while mostly insane, not entirely so. I will say that she had managed to not slight Obama in recent weeks, but her speech tonight was designed, once again, to make the fallacious claim that in some way she's done better this primary season than Obama.

Her claim of having the most votes is only valid if you ignore huge proportions of the country, and her supporters wearing "COUNT EVERY VOTE" shirts cheer on this lie with glee. It really is annoying, and absolutely the worst thing Obama could do would be to name her as his VP candidate. A cabinet position? Sure. Senate Majority Leader? Absolutely, and this is something I think she could do brilliantly.

The Clinton supporters who claim that they'll vote for McCain out of spite will in general, come to their senses. Either that, or they are so out of touch that their misguided spite will be much more of an anomaly than anything else. If you like Hillary Clinton as a politician, you presumably...


Want to preserve the right of choice for all women. John McCain is stridently pro-life, Barack Obama is just as stridently pro-choice.


Want to end the war in Iraq. John McCain couldn't be happier if we stayed in Iraq for 100 years, and jokes about bombing Iran. Barack Obama isn't opposed to wars, just stupid wars like this one. It's also worth noting that if Clinton had voted against the war, or even been more open about her vote being a mistake she not only would have likely won the nomination, she would have done so months ago.


Want universal healthcare. McCain thinks we just need to tweak the broken system, while Obama supports universal healthcare in virtually the same way as Clinton.


Want real climate change action. McCain is way better than Bush, but way worse than Obama.


Want to reform the education system and the woes of not fully funding NCLB. John McCain has barely even talked about education, while Obama basically agrees with HRC on this wholeheartedly.


I actually can't even believe I had to make that list, which I abandoned halfway out of shock. The only people deciding between Clinton and McCain are those who really don't care about the issues. As much as McCain likes to be seen as a maverick, he is about as far right a candidate in most cases as we've seen with the exception of our current Moron-In-Chief. Anyone who really wants to correct the errors of said chimp can't do anything but vote for Obama.


Who, by the way, has a good chance of being the best President of any of our lifetimes

There, I said it.

A few weeks ago, my neighbor Howard asked me what would happen first – would my daughter be born, my kitchen be finished with its remodel, or the Democratic Party finally nominate a candidate? At that point, I said I'd like it to happen with the kitchen, the Democrats and then my baby but I (correctly) thought it would happen baby, kitchen, Democrats. That turns out to be the case, but in all three of those areas, the best possible outcome was the result, so I can't complain.

Truly, this is a remarkable evening, and once Clinton and her supporters get around to realizing it, they should enjoy it as well.