Big Brother 10

This started last night, and it's already an improvement over the woeful Big Brother 9: Till Death Do Us Part, a stain on an already shaky reality series. Why was it better? Because not everyone seemed like an insane narcissist right off the bat.

Hey, I'm sure they ARE awful, it just wasn't that readily apparent. However, while I've have more to say about this going forward, I felt this, from EW, was worth sharing:

Renny fancies herself a party girl, but at age 53 she looks more like an extra from the movie Barfly. Every one of her sentences sounds like it should be followed by a deep drag on a cigarette and a drunken lunge to grab a young, scared boy's ass. Everyone seemed to get tired of her pretty quickly, thanks to her odd choice to turn on the lights in the middle of the night and wheeze like a broken radiator when it was revealed that she was only locked into the room because she was pushing the door instead of pulling. I can imagine how jarring that must have been for everyone she woke up; hearing the crazed cackles of an older woman in satin PJs talking about how she has to ''put her face on,'' they must have thought the BB house was being haunted by the ghost of Ethel Mertz.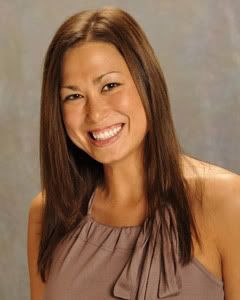 Yeah, good times.
Early leader in the clubhouse for hottie that will drive traffic to all posts here about her?
That would be either Angie Swindell, the self described "Asian Sensation" -- insert your "...sigh..." here, who actually seemed pretty normal. This will undoubtedly be a horrible misjudgment on my part, because NO ONE is normal who chooses to play this game. But at first glance, she didn't seem that crazy.
I will say, however, that we guessed her job as being in "pharmaceutical sales" purely on her looks, and we were delightfully not wrong.
The other obvious choice would be April who isn't all that pretty but apparently has very large, real cans. Which she let the women and the 75 year-old man feel to validate their non-fake status last night. Like, five minutes after meeting everyone.
Ah, I love reality tv.