Happy Birthday, Senator McCain
I don't mean to rain on your birthday cake and all, but I thought I'd remember where you were three years ago, laughing it up with your best buddy (well, 90% of the time, at least) while Hurricane Katrina pounded the Gulf Coast.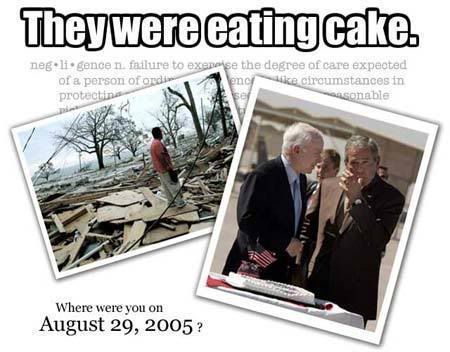 (And even if McCain had no reason or cause to be there, wouldn't you think he'd have said, "Gee, Mr. President, it's nice that you want to eat some cake, but ... don't you have a national emergency on your hands?" Guess that conversation didn't happen.)




Anyhow, congratulations on turning 72 years old today. You don't look a day above 69, 70 perhaps.


As far as the choice of VP goes, Sarah Palin is...a very good looking woman. Seriously, what a joke of a pick. McCain pretended to berate Obama for his lack of experience - and then chooses a VP with less than two years as the Governor of a remote state after being mayor of a small town. She's ardently pro-life, which is of course required for all GOP candidates these days - but it's so patently a reach for some disgruntled Hilary voters. But, if he watched Obama's speech last night, and indeed the entire convention which went swimmingly, the remaining HRC voters who will come around to vote for a ticket of two rabidly pro-lifers is not going to be a game changer.

As Kevin Drum writes:


It's hard to think of a more intensely cynical, focus-grouped, poll-driven, base-pandering VP choice in recent memory. Even Dan Quayle isn't in the running. This is ridiculous.
Adds
Steve Benen
:
But in trying to wrap my head around this, the same word keeps coming to mind:

gimmick

. Under the circumstances, this choice has literally nothing to do with governing and everything to do with a desperate search for an electoral edge. McCain used to bill himself as the credible, serious grown-up candidate. That's an exceedingly difficult pitch to make now. When looking for a running mate, Barack Obama looked to someone who could help make him a better president. When looking for a running mate, John McCain looked to someone who could help him look like a better candidate.

Indeed, today's announcement seems to be largely based on two considerations: 1) who might help peel off some disaffected Clinton supporters; and 2) what might help undercut coverage of Obama's big speech in Denver. These aren't the considerations of a national leader; they're the considerations of a political hack.

...

McCain had a vast group of Republicans to choose from, and he picked someone he barely knows, who's been a governor for a year and a half.
Do you smell it? That's the reeking rot of desperation.
My friends, we can do better.