That's Just Sort Of Sad
This post on ESPN about the best player overall for each franchise has very few surprises or controversial picks.

But the choice for the best New Orleans Saint ever struck a chord with me.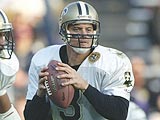 It's Bobby Hebert.

Seriously?

Sadly, there's no obvious better choice, but a few good ones would be: Sam Mills, Archie Manning, Pat Swilling, Morten Freaking Anderson...I mean, Hebert wasn't ever actually good. That's sort of a problem if he's the face of your franchise.