Peter King is a moron.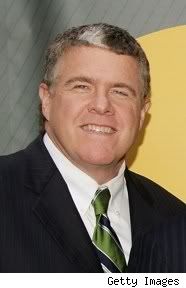 Seriously, I don't want to hate on the guy but when he writes something like this, it makes you wonder:


Offensive Player of the Year: 1. RB Adrian Peterson, Minnesota. 2. QB Tom Brady, New England. 3. QB Matt Hasselbeck, Seattle. I had Garrard higher in the MVP voting here by virtue of the Jags surpassing Indianapolis. Hasselbeck will have a 4,300-yard passing season.
Bold font is mine. (All mine!)
When I read something like this, I have to wonder if he watches as much football as it seems like he does. Who the hell is Hasselback going to throw to?
Bobby Engram
is hurt, and his replacement, Ben Obafamu (or something) is now also out for the season.
Deion Branch
may or may not be out until mid-season, and there's a very weak running game to make defenses honest.
Patently, this is pure poppycock by Peter King. Hasselback will be lucky to be average this year with the crew he's tossing to.