A Failure of Leadership
Yes, this is what passes for a commissioner in Major League Baseball -- emphasis below are mine:



Bud Selig says Alex Rodriguez has "shamed the game," though the baseball commissioner indicated no plans to punish the three-time AL MVP.

"I am saddened by the revelations," Selig said in a statement issued Thursday,

four days after Rodriguez admitted he used unspecified drugs from 2001 to 2003 while playing for the Texas Rangers

. "What Alex did was wrong, and he will have to live with the damage he has done to his name and reputation."

Players and owners didn't agree to a joint drug program until August 2002, and testing with punishment didn't start until 2004.



"It is important to remember that these recent revelations relate to pre-program activity,

" Selig said.

"Under our current drug program, if you are caught using steroids and/or amphetamines, you will be punished. Since 2005, every player who has tested positive for steroids has been suspended for as much as 50 games."

Much of the statement was a recitation of Selig's efforts to get a drug agreement with the union and then toughen it. With baseball officials under pressure from Congress, negotiators from management and the union strengthened the program in January 2005, November 2005 and April 2008, toughening the penalties and tightening the rules.
OK, excuse me for a second while I catch my breath and push my jaw back into its closed position.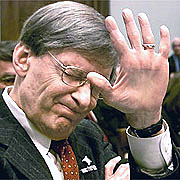 Alrighty. BUD SELIG, YOU SUCK ASS.
It took you FOUR DAYS to respond to the greatest player in baseball doing steroids? FOUR FREAKING DAYS? And you point out that he didn't violate any rules by doing so? I know he can't exactly punish A-Rod for what he's admitted, but there's a better approach here. Say that even though your new steroid program is strong, it ain't strong enough. Punish A-Rod and others for not owning up to this on their own and point out that it's sad that the only reason we know about this is because of good investigative journalism.
Make the players squirm. Convince them that you actually DON'T want them doing these performance enhancing drugs because your behavior thus far suggests the exact opposite. Right now, Selig is a pasty who gets paid almost $18,000,000 a year to basically do nothing about the biggest problems in the sport. Whether or not his actions - or inactions - are good for the sport is legitimately debatable -- ticket sales last year were the second highest of all time - but there's no question as to whether Selig is a leader or not.
(Um...the answer is NOT.)