On Iran
I don't pretend to know more about the issue than anyone else, and indeed I know far, far less. But here are a few good posts about what Obama should or shouldn't be doing.

The first is from Curtis Edmonds, someone far to the right politically, pointing out that many of his conservative brethren have it exactly wrong when they are encouraging President Obama to insert himself into the Iranian Election process.


Obama is President, and he is doing absolutely the right thing - the only thing he can do, which is to keep his big fat mouth shut. (Anyone who doesn't think that's the best strategy in most instances has never been married.)
Next up is The Anonymous Liberal, who points out that the new meme,
that Reagan inserted himself with Poland in the 1980s - is entirely irrelevant
:
The last thing Mousavi and his supporters want is for the President of the United States to express his solidarity with their cause. That would play right in to Ahmadinejad's hands.

Just about everyone in the world understands this basic reality except American conservatives. At first I thought they were just feigning ignorance and using the situation to try to score cheap political points. I'm sure that's true of many of them. But there are a number of them--and I would put Ed [Morrissey] in this category--who appear genuinely oblivious to the basic diplomatic realities of the world.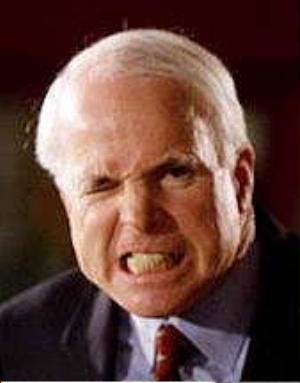 Last but far from least is Joe Klein, commenting on recent Presidential candidate John Sidney McCain,
who just can't help himself when it comes to trying to meddle with Iran and pretend that his voice is on par with the guy who, you know, actually won the election. Says Klein
:
For two years now,

John McCain has been entirely consistent on Iran: every last statement he's made--at least, those that I've seen--has been (a) fabulously uninformed and (b) dangerously bellicose.

He's still at it, apparently. There is no question that President Obama's more prudent path is the correct one right now. There is also no question that the neoconservatives are trying to gin up this situation into an excuse for not engaging with the Iranian government in the near future--and also as a rationale for their dearest, looniest dream, war with Iran.
Emphasis mine.
Go read them all, why doncha.