Do the Giants WANT to win?
This was suggested to me by a friend - hopefully in jest - but it's hard to look at the following story and not wonder.


At a winter meeting where Curtis Granderson has already been traded and hitters like Miguel Cabrera, Josh Willingham and Adam Dunn are available via trade - not to mention free agents like Jason Bay and Matt Holliday are out there still.

And the players mentioned as possible future Giants?

Catchers Miguel Olivo and Yorvit Torrealba and 3B Kevin Kouzmanoff.

Now.

Put aside the fact that none of these guys are, you know, GOOD. Put aside the fact that Torrealba's decent year last year has teams apparently in a bidding war over him.

Put all that aside because neither are the dumbest part of this story.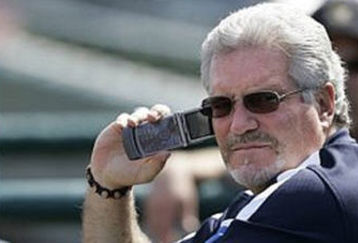 The Giants have one legitimate hitter on their team, whose name is Pablo Sandoval. He plays third base.

Their best offensive prospect? His name is Buster Posey. He plays catcher.

Now, while Posey might not be ready for primetime next season ... all this talk that Brian Sabean and the ownership say about exploring hitters in free agency and trade consistently turns out to be complete and utter bullshit.

Why - WHY - would you target players at the only positions of potential strength? The outfield is a misery. A total wasteland of nothing. You are telling me Josh Willingham is out of reach? It's insane.

Then there is this - Sabean has already said he's not going to bother with Bay or Holliday as he "knows" they don't want to sign with the Giants and doesn't want to be used to jack up their pay.

Um, why not? For one, you were wrong about Adam Dunn who you treated similarly a year ago. Way to see you've totally NOT learned from your past. Asshole.

Secondly, if another team pays more, that should mean they'll have less money for other guys - guys you might WANT.

It's really sad when a professional sports team is run by someone this incompetent. I truly have to think that at some level, the Giants don't really want to win - otherwise, they'd have a fully functioning adult as the General Manager.