The Complete Book List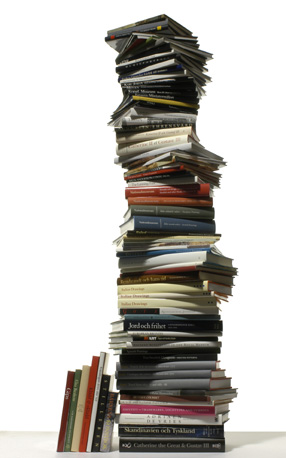 Because I read a lot, and because I'm also a nerd, I keep track of what books I've read. Mostly, this is because I like making lists.

This is an attempt to create one giant list, as opposed to a year-by-year list. However, if you'd like to see it year-by-year, here they are. (And if you are that bored, let's talk.)

The Books I Read in 2010

The Books I Read in 2009

The Books I Read in 2008

The Books I Read in 2007

The Books I Read in 2006


In all those lists, as with the one below, In those lists, as in the one below, the following may be informative:

Books marked with blue are ones I really enjoyed.

Those marked in orange are titles I didn't even finish, for one reason or another.

The rest...somewhere in between.


Book Title
Author
Rating (out of 10.0)
Thoughts
Full Dark, No Stars
Stephen King
N/A
In fairness, I didn't realize this was a short story collection - that's my bad. But the first story was ... insanely boring, and far too long. I'll read another King soon, there's plenty of them out there.
Kapitoil
Teddy Wayne
8.0
A very fun novel about an engineer who comes over to help out with Y2K that ends up writing a program to profit off of oil futures and ... mayhem ensues.
The Marriage Plot
Jeffrey Eugenides
7.5
I ended up liking this book, but ... if it hadn't been Eugenides, I'm not sure I would have hung in long enough to realize this - the beginning is VERY pretentious and annoying, but it turns out to be quite nice. Stick it out.
War Room
Michael Holley
7.5
A well written book about "The legacy of Bill Belichek and the art of building a team." It focuses also on Tom Dmitroff and Scott Pioli, among others - and is great for any NFL fan.
Everybody Loves Our Town: An Oral History Of Grunge
Mark Yarm
7.5
Even though some focus of this book - again, an oral history - was on bands I'd never heard of, most of it focused on the core Seattle scene and told a fascinating and often crushingly sad story about the musicians who somewhat unintentionally created one of the bigger music scenes in my lifetime.
I Want My MTV: The Uncensored Story of the Music Video Revolution
Craig Marks
8.5
I'm not only a sucker for oral histories, but I'm right in the wheelhouse for this as someone who grew up alongside MTV. Loved this, even if somewhat guiltily.
Love Goes to Buildings on Fire: Five Years in New York That Changed Music Forever
Will Hermes
6.5
Rated the Best Book on Music in 2011, I had to read it - but it didn't do it for me. Too much focus on Latin Jazz (which I'm sure is lovely) - but the parts about music I cared about was really quite good, so a mixed review overall.

2012

2012

2012

2012

The Red Breast
Jo Nesbo
6.5
A disappointment from one of the more famous Swedish crime writers - I have heard a lot about Nesbo, but this was a bit plodding, not that compelling - I kept waiting to find out what all the fuss was about.
Slotback Rhapsody
Christopher Harris
8.0
You know what there aren't a lot of? Good football books. This changes that - Harris (a fantasy writer for ESPN and, again, someone I once wrote with) puts together a fun, really well structured and written novel about an unlikely NFL star.
The Bullpen Gospels
Dirk Hayhurst
6.5
Lots of good anecdotes about the wacky world of the minor leagues but not a TON of substance, but Hayhurst reels it all in at the end. Read my full (though brief) review here.
The Two Deaths of Daniel Hayes
Marcus Sakey
7.0
After the last book, I didn't realize I was starting another story about someone with amnesia, but there you go. Daniel Hayes wakes up on a beach in Vermont, and has to piece together what happened. Even more than S.J. Watson's book, it's truly lighter fare and feels made for a movie - but a fun book nonetheless.
Before I Go To Sleep
S.J. Watson
8.5
A different take on a Memento-like story - a woman wakes up each morning with no memory - and a captivating, fast paced novel. It turns out to be a bit 'thinner' of a story than I thought it was, but really enjoyable and compelling.
The Visible Man
Chuck Klosterman
7.5
A much more enjoyable and original effort than Downtown Owl, this Klosterman novel is literally about a man who perfects a truly invisible suit ... who needs to visit a psychiatrist. Weird and fun.
The Drop
Michael Connelly
7.5
After a 900-page Murakami, I needed a bit lighter fare, and Connelly is back to form with this Harry Bosch book. One of my favorite characters and a great story to boot.
1Q84
Haruki Murakami
9.0
I might not have anticipated a book more than this lately - and it was truly great, and weird in the best kind of Murakami way. If you like him, you'll love this.
Are We Winning? Fathers and Sons in the New Age of Baseball
Will Leitch
7.0
I like Will Leitch's writing a LOT - this was his closest attempt to a serious book, and the structure (telling the story through the innings of a baseball game he watched with his father) is interesting, but ultimately it felt a bit flat to me.
The Art of Fielding
Chad Harbach
8.5
Yet ANOTHER great debut novel, this one about academia, baseball and growing up. The best praise I can give it is that it reminded me of A Prayer for Owen Meany and that's high praise indeed. One of the truly best books of 2011.
How Fantasy Sports Explains the World: What Pujols and Peyton Can Teach Us about Wookiees and Wall Street
A.J. Mass
8.0
A very fun, often insightful book by A.J. Mass, ESPN Fantasy Writer (who, admittedly, I used to write with on TalentedMrRoto.com) - if you like fantasy sports, buy it. If you like Malcolm Gladwell-esque data, buy it. If you like a good book, buy it.
The Warmth of Other Suns
Isabel Wilkerson
9.0
A truly phenomenal book, detailing the migration of African Americans from the South through the rest of the country in the first half of the 20th century. Beautifully written and fascinating, I loved this book and also learned quite a bit.
The Lion
Nelson DeMille
6.5
I like DeMille, who occasionally veers out of pulp thrillers (like this), but even his average books are entertaining. This is that, but not much more.
The Leftovers
Tom Perotta
7.5
I love Perotta, and this snarky but insightful take on what might happen if The Rapture - or something like it - actually happened is good, but falls just short of its potential.
Ready Player One
Ernest Cline
8.5
Another great debut novel, for fans of video games or just great writing. Read it. And this: full review here.
Domestic Violets
Matthew Norman
8.5
Great debut novel, in the style of Jonathan Tropper or Tom Perotta. Well worth your time - full review here.
In The Garden of Beasts
Erik Larson
N/A
Serious disappointment. I loved Devil In the White City, but though the structure is similar - a non-fiction account of dual, overlapping plots - I couldn't get interested in either of the things going on. Had to stop.
Echo Burning
Lee Child
6.0
Yet another disappointing Jack Reacher novel, where Reacher acts superhuman, explains the plot in the last few pages and ... I might be done with this series.
The Last Hero: A Life Of Henry Aaron
Howard Bryant
N/A
I still can't believe I didn't finish this, but it just got ... boring. Henry/Hank Aaron is a childhood hero, and Bryant is a great writer - but I simply couldn't get into it.
One Day
David Nicholls
9.0
Suprisingly great novel, with each chapter taking place on the same day (July 15, St. Swithins Day), on different years. It's a love story, but a clever one, and often funny and occasionally heartbreaking. Poised to be a crappy film with Anne Hathaway in just a few short weeks!
Blind Descent: The Quest To Discover The Deepest Place on Earth
James Tabor
7.5
I'd heard about this for awhile, and expected a bit more, though it was quite enjoyable. Cave exploration is simply insane, though the ending here was more than a bit anticlimatic.
The Post Mortal
Drew Magary
8.5
A really enjoyable, unique fiction (about what would happen if the world could stop mortality/aging) from the funny writer from Deadspin, Kissing Suzy Kolber, etc. Full review HERE.
The Pale King
David Foster Wallace
7.0 (and also 5.0)
Two ratings. Caveats and full review is located here.
Those Guys Have All The Fun: An Oral History of ESPN
Tom Shales & James Andrew Miller
8.5
As a life-long fan of ESPN I'm admittedly the prime audience here. But the inside stories of how the network was built are fascinating - and the way they slightly make it clear that Chris Berman (and to a degree, Bill Simmons) are jerks is priceless. Worth it for every ESPN fanboy, like me.
Game of Thrones
George R.R. Martin
8.0
I read this during the first season of HBO's show of the same name, and it was well worth it. I'm not a big "fantasy" guy but this has the right balance and the show is shockingly faithful. There are now four more books after this which I will have to pace myself with...
Scorecasting: The Hidden Influences Behind Sports and How Games Are Won
Tobias Moskowitz & L. Jon Wertheim
7.0
Billed as "Freakonomics for Sports" - and similarly written by University of Chicago professors, it "proves" a few sporting trends and myths - why NFL teams should almost always go for it on 4th down, home field advantage, etc. When it's fun, it's great but veers a bit too much towards the academic for me.
The Extra 2%: How Wall Street Strategies Took a Major League Baseball Team from Worst to First
Jonah Keri
8.0
Keri is someone I've read for awhile (follow him on Twitter! This focuses on the Tampa Bay Rays, and how a management change and approach completely turned around the club. Very fun and interesting account of a club I know nothing about. Good, good stuff.
Fordlandia: The Rise and Fall of Henry Ford's Forgotten Jungle City
Greg Grandin
N/A
After reading The Lost City of Z, I remembered I also had this one, about Henry Ford creating a city in -- wait for it - the remote Brazilian jungle. After more than a third of the book, they still hadn't got to that jungle, which was sort of the whole reason I was interested. So...I stopped.
The Lost City of Z: A Tale of Deadly Obsession in the Amazon
David Grann
7.5
A non-fiction account of the pursuit for a potentially mythical city in the Brazilian jungle, both in the past and by the author in the present day. It teeters on the edge of being fascinating but never fully got there for me.
Little Bee
Chris Cleave
8.5
A clever, crushing book linking a British couple and a Nigerian girl who calls herself Little Bee. At least as interesting because of the format of the book as the story itself, but it's very compelling. Sad and often pretty great.
Sleepwalk With Me
Mike Birbiglia
7.5
The last -- for now -- of my Books By Comedians, but probably the best and more earnest. Birbiglia's comedy is much more subdued, much more story-telling than straight comedy so it lends itself well to the format. Works as a funny book and as a memoir, a great book especially for his fans (of which there should be more).
Juicing the Game: Drugs, Power, and the Fight for the Soul of Major League Baseball
Howard Bryant
8.5
Anyone who thinks they understand steroids in baseball needs to read this book before being sure. It's incredible, honest and informative; many reasons contributed to the rise of steroids, many of which I didn't ever consider. A must-read for any baseball fan.
Talking to Girls About Duran Duran: One Young Man's Quest for True Love and a Cooler Haircut
Rob Sheffield
8.0
Sheffield's first book, Love Is A Mixtape, was good if somewhat uneven (and heartbreaking as it's the details of his wife's sudden death). This is more of a memoir, each chapter set to a specific song from his teenage and college years. It's good - and his honesty is impressive, when he talks about taping over The Smiths' Meat Is Murder with a Madonna album - and often beautiful (suprisingly, most so in his chapter about Karaoke). I vote for Nick Hornby's Songbook over this, but I'll take this one, too.
Running Blind
Lee Child
8.0
The fourth - and my favorite - of the Jack Reacher books so far, it's the most straight-ahead mystery (of who is killing retired ex-Army women soldiers). Really, really enjoyed it.
Tripwire
Lee Child
7.0
A bit of fluff while on vacation, it's the third of the Jack Reacher novels and a very fun one (complete with a villain with a hook for a hand!). I'm starting to see what the fuss is about.
Skippy Dies
Paul Murray
9.0
A brilliant, funny and sad story of a boy named Skippy who (spoiler alert!) dies, and the kids and teachers in and around his prep school in Ireland. A multi-character, sprawling story, it is always interesting, fresh and occasionally awesome.
Where Men Win Glory: The Odyssey of Pat Tillman
Jon Krakauer
8.0
Like all of Krakauer's work, this was incredibly engaging to read. I learned a ton about Tillman I didn't know (including that our politics were closer than I'd have guessed), and the frustrating coverup after his death. Gripping, only slightly less because I knew some of the details beforehand.
My Dead Dad Was in ZZ Top: 100% Real,* Never Before Seen Documents from the World of Rock and Roll
Jon Glaser
6.5
A very fun satirical book of supposedly "found" documents - a set list Prince sung for Stephen Spielberg's son's bar mitzvah. I like that he chose some more arcane bands like I Love You But I've Chosen Darkness, and the book would be fun to pick up, but it literally took me no more than 90 minutes to read cover to cover. Fun, and probably a good gift, but much more than that.
Room
Emma Donoghue
9.0
I avoided this novel told from the perspective of a child raised in the room - cell, really - that his young, abducted and raped mother lives with him. It's both horrifying and beautiful, and odd in the best possible way. I absolutely loved this book.
After Dark
Haruki Murakami
7.5
I waited for awhile - years, actually - before starting this one from one of my absolute favorite authors. (I'm enough of a geek that I take pleasure knowing I have unread material from someone I love to read.) But it turned out to be quite thin, and never felt like a complete story. Interesting and fun in his usual style, but hoping for much more from his next.
Although Of Course You End Up Becoming Yourself: A Road Trip with David Foster Wallace
David Lipsky
8.0
An account of a long interview with David Foster Wallace, which ranges from funny to wistful to sad to banal ... but it's always compelling and a nice glimpse into DFW.
I Drink For A Reason
David Cross
N/A
Another in my "Books by Comedians," and the absolute worst of the bunch - a shame since I love David Cross. Just not an interesting 'book.' Didn't finish it.
Hellhound On His Trail: The Stalking of Martin Luther King, Jr. and the International Hunt for His Assassin
Hampton Sides
8.0
A fascinating story of the search for James Earl Ray - almost none of which I knew. By the author of Ghost Soldiers, this one is well worth your time.
Mockingjay
Suzanne Collins
7.5
The final book in the series (I should note that while I didn't love this series, I read all three in the course of a long weekend), it's the most serious and grave, as is appropriate. I definitely raced through these books, liked them a ton and look forward to the movie versions.
Catching Fire
Suzanne Collins
7.0
A solid follow-up, and a creative way of queueing up a reprise of the Hunger Games.
The Hunger Games
Suzanne Collins
7.5
I gave in and it's compelling, an easy read - and a nice spin on Battle Royale in a slightly less fun, but still very intriguing way.
The False Friend
Myla Goldberg
5.5
I usually don't finish books I feel this lukewarm about, but it's a quick read - so, that's something.
Major Pettigrew's Last Stand
Helen Simonson
9.0
A shockingly great novel - if it is indeed 'modern Jane Austen,' then I guess I like that. Who knew?
Running Blind
Lee Child
7.0
It's fun with Jack Reacher, but yet again, not quite up to some of my other favorite crime series.
The Ask
Sam Lipsyte
7.0
An often enjoyable story, it ends up falling far short of its promise and praise.
Unbroken: A World War II Story of Survival, Resilence and Redemption
Laura Hillenbrand
9.5
Truly one of the best books I've read in a long, long time. Louis Zamperini should be your new hero, too.
Will Grayson, Will Grayson
John Green & David Levithan
7.5
An often brilliant story about two Chicago-area boys with the same (title) name. The ending gets to be a bit "Hallmark Movie of the Week" and the dialogue is sometimes way too sophisticated, but it does WORK and is incredibly clever and fun.
Extra Lives: Why Video Games Matter
Tom Bissell
7.0
Chapters about why Resident Evil is truly scary had me, while others - about games I've never even heard of - were less gripping and often a bit academic. Still, a fun and short read.
Great House
Nicole Krauss
9.0
A fantastic story (longer review to come) about several characters, tied together through the years by a writing desk. Brilliant, in the best use of that word.
The Reversal
Michael Connelly
7.5
A Harry Bosch/Mickey Haller novel that is extremely satisfying, if a little uneventful.
Killing Floor
Lee Child
7.5
The first of the Jack Reacher novels, it's quite good - not quite up to the Harry Bosch level of Connelly but very fun in its own way. I'll be back.
The Imperfectionists
Tom Rachman
8.5
A beautiful story about a newspaper, told by numerous characters, out of sequence. Some stories seem a little unfinished, but it doesn't really matter - it's so well written and so clever that it's well deserved all the praise it's received.

2011

2011

2011

2011

Freedom
Jonathan Franzen
9.5
Wow. There may be a few pages in this epic tome that don't work brilliantly, but otherwise it's an astounding, important and FUN novel that is a worthy successor to The Corrections.
The Immortal Life of Henrietta Lacks
Rebecca Skloot
7.5
A good but not quite great detailing of the HeLa cells and how the Lacks family learned about their contribution to society and wealth, while living in abject poverty and, often, ignorance. Not as amazing as some have said, but a really interesting and important story.
Operation Mincemeat
Ben Macintyre
8.5
Incredible, true story about a covert operation in WWII that helped deceive Germany and Italy into being caught unaware for the attack on Sicily. Sometimes, the stuff of spy novels turns out to be true.
A Visit From The Goon Squad
Jennifer Egan
9.0
Outstanding and incredibly moving novel by Egan. Longer review here.
Moonlight Mile
Dennis Lehane
9.0
A return of my favorite Lehane characters, this is seriously fun, poignant and a terrific read. Highly recommended.
SuperFreakonomics: Global Cooling, Patriotic Prostitutes, and Why Suicide Bombers Should Buy Life Insurance
Stephen Dubner and Steven Levitt
7.5
First off, look at the last four books here - I have to stop reading books with colons in the title. But this was a nice follow-up with the only negative a long spiel on global warming that felt very out of place and a bit polemic.
The Bedwetter: Stories of Courage, Redemption, and Pee
Sarah Silverman
7.0
Decent, but it turned out to be less witty reflections on life as an actual memoir - and it also turns out I don't care enough. A review here.
In Fifty Years We'll All Be Chicks: And Other Complaints From an Angry White Middle-Aged Guy
Adam Carolla
7.0
Not bad, often funny - great for fans of Carolla, even if they've heard many of these rants before. A fuller review here.
The Machine: a Hot Team, a Legendary Season, and a Heart-Stopping World Series: the Story of the 1975 Cincinnati Reds
Joe Posnanski
7.0
Posnanski is an amazing writer - his blog is outstanding as are his SI articles, and here he writes on one of the first baseball teams I can remember, the Big Red Machine. Well done, perhaps I'm just not quite passionate enough about the subject matter to love it instead of liking it.
Sunset Park
Paul Auster
9.0
Outstanding - the full review here.

Also the first book I've ever read on a Kindle, which seems worth recording.
Stretch: The Unlikely Making of a Yoga Dude
Neal Pollack
N/A
Did Not Finish -- Pollack usually spews dark commentary, so this seemed teed up -- but, turns out it's just about Pollack trying to find "his best self." Eeks.
Changing My Mind: Occasional Essays
Zadie Smith
N/A
Did Not Finish -- Newsflash: I'm not as erudite as I thought. Reading essays about books I haven't read, authors I don't recognize, etc., turns out to not be all that interesting to me.
The Amateurs: A Novel
Marcus Sakey
7.0
Yes, I read two books of the same name back-to-back. This one was about four friends who decide to rob a safe, and predictably, things go bad quickly. Fun, but very light and not as developed as Sakey's other novels.
The Amateurs: A Novel
John Niven
7.5
Full review here.
Total Access
Rich Eisen
6.0
I didn't expect much from this book about the beginning of the NFL Network, but it still was even thinner than I'd thought. Fun, but not special.
Reality Matters
Anna David
7.5
It sounds great - a series of essays by respected writers about the various reality TV show they're addicted to. And often it is - and others fall flat. Enjoyable to be sure, and nice to know I'm not alone.
God Save The Fan
William Leitch
7.5
Leitch, editor of Deadspin, writes a humorous and compelling series of essays about why sports isn't as good as it should be but it shouldn't matter - and, sports are still basically awesome anyway.

In some ways, his writing on steroids in the book opening, "Please, God, No, Not Another Essay About Steroids," is as good as anything written on the subject. And the rest? Always amusing, if in varied degrees.
The Girl Who Kicked The Hornet's Nest
Steig Larsson
7.0
Certainly enjoyable, but by far my least favorite of the trilogy. It felt the least clever and sloppiest of the three -- but I did enjoy spending more time with Blomkvist and Salander. I'd love to have been able to read the next six books that were planned for the series.
The Unnamed
Joshua Ferris
7.5
Ferris writes a compelling book about a man who can't stop walking - literally. It's about the battle between the body and the soul, religion, greed and love ... and lots of other things I'm not quite sure I understood. Still, quite enjoyable and haunting.
Nine Dragons
Michael Connelly
7.5
Connelly could probably roll out of bed, write a book with Harry Bosch in it, and I'd give it a 7.5. So, this is just an average rating because it's not better than his basic effort - but still, enjoyable as always.
The Big Short
Michael Lewis
9.0
I really should do a full review on this because it deserves it - but no other book I've seen so elegantly sums up the financial crisis - by focusing on those who screamed loudly about it, realized no one was listening, and instead chose to profit from it. Brilliant, engaging and infuriating.
Men With Balls
Drew Magary
7.0
Because you can't bring Dostoevsky on a bachelor trip. From Kissing Suzy Kolber writer, and just as funny.
Everything Is Wrong With Me
Jason Mulgrew
6.0
Full review here.
The Brothers Karamazov
Fyodor Dostoevsky
9.0
Full review here.

2010

2010

2010

2010

The Financial Lives Of The Poets
Jess Walter
9.0
Just as I think many will look at The Zero as a definitive novel about 9/11, Walter scores here again with a pitch-perfect novel about the financial crisis that is both hilarious and heart-breaking. Walter can seemingly do no wrong.
The Family: The Secret Fundamentalism at the Heart of American Power
Jeff Sharlet
6.0
A book with this much promise doesn't need to turn into a polemic screed, and focuses WAY too much on old history, rather than the impact this group continues to have today.
Blind Willow, Sleeping Woman
Haruki Murakami
7.0
After the disappointments below, I needed a surefire winner. Murakami never disappoints, and some of these stories are truly great.
The Gate At The Stairs
Lorrie Moore
4.0
A BIG disappointment. Full review here.
Eating The Dinosaur
Chuck Klosterman
6.0
Another disappointment. Klosterman weaves a few interesting thoughts here and is often amusing, but -- and this may be due to the fact I read this during a heinous bout of food poisoning -- it felt both a bit precious and not nearly as funny as Klosterman often is. Several essays are great (football, Weezer) while too many others fail.
The Guinea Pig Diaries
A.J. Jacobs
5.5
Really disappointing -- Jacobs clearly has slapped old magazine articles here, but they all read as if they should be stand alone ... magazine articles. I hate that, and none of these were particularly enjoyable.
The Book Of Basketball
Bill Simmons
9.0
The fact that I - a disgruntled former NBA fan - could enjoy a 700 page book about basketball just shows how funny and readable Simmons is.
Land Of The Blind
Jess Walter
9.0
A follow-up to Over Tumbled Graves, Walter again shines here with a new mystery that continually surprises and delights. That sentence is sort of weak, but it's true.
The Top Ten: Writers Pick Their Favorite Books
J. Peder Zane (Editor)
6.0
A great idea - ask 125 authors what their favorite books are, and then make lists! I found a few new titles here, and made notes to read a lot of Tolstoy. It's a fun reference book, to be sure.
Man In The Dark
Paul Auster
7.0
Back to form. Part a story made up by the protagonist (and a good, surreal Auster story to boot), partially a story about a man coming to grips with his own mortality, it's a bit like Angle of Repose meets Hard Boiled Wonderland and the End Of The World, though that likely makes no sense.
Juliet, Naked
Nick Hornby
9.0
It's possible that Hornby could write instructions for my TV and I'd still find it gripping, funny and poignant. This one is no exception, and shows Hornby writes just as well from a woman's perspective as from his "lad lit" stereotype.
Apathy and Other Small Victories
Paul Neilan
6.0
Ultimately a disappointment, Apathy nonetheless contains a few laugh out loud moments and makes fun of the workplace so I have to give it props there. But it consistently felt like it should be ... more.
The Great Influenza: The Epic Story of the Deadliest Plague in History
John M. Barry
8.0
A gripping account of the 1918 flu epidemic. It's more about how the science behind it and the revelations it led to, but a great read and certainly relevant in the wake of the current H1N1 breakout.
Over Tumbled Graves
Jess Walter
9.0
A phenomenal murder thriller - with this, The Zero and Citizen Vince Walter has shown he is not genre-bound, and succeeds wherever he goes.
The Zero
Jess Walter
9.0
Damn. Just ... damn. The full review is here.
Manhunt: The Twelve Day Chase for Lincoln's Killer
James Swanson
8.0
A great and incredibly informative account of the search for John Wilkes Booth. Tons of stuff I didn't know, and always entertaining throughout.
Stumbling On Happiness
Dan Gilbert
7.0
An entertaining book about the science and psychology of what actually makes folks happy. Bought it after I heard him speak on a TED podcast. Very good, but gets a bit "same-y."
Downtown Owl
Chuck Klosterman
7.0
The first novel from Klosterman, it is an uneven attempt. Bouncing between three characters, it ends up with a conclusion that feels unfinished. His writing is as usual crisp and witty, but I suspect his next attempt will have more meat.
The Gate House
Nelson DeMille
6.5
The sequel to the brilliant "The Gold Coast," this novel falls well short. For one, it's 650 pages long and could probably be 150 pgs. Not much happens, which is sort of a problem. It's good writing, but there isn't much plot. There's no there there.
Outliers
Malcolm Gladwell
7.5
Like all Gladwell writing, it's clever, informative and sticks with you for awhile. It makes great cocktail party conversation - but this felt thinner, less weighty, than his previous books. Not quite their equal.
The Girl Who Played With Fire
Steig Larsson
8.5
I liked the first in this series so much I ordered the UK version of this book because I couldn't wait for it. And while it's not quite the equal of 'Dragon Tattoo' it's still riveting, fun and clever. Lisbeth Salander kicks ass.
Out Stealing Horses
Per Petterson
9.0
A beautiful, quiet novel about a man entering old age, looking back on his life. Feels like the Norwegian Wallace Stegner at times, which is saying A LOT.
The Brief Wonderous Life of Oscar Wao
Junot Diaz
8.0
A victim of over-hype, I didn't love this the way many others have - but it is still a very, very good novel. Happy, sad, geeky and heartwarming - everything is there, it just didn't blow me away.
The Watchmen
Alan Moore
8.0
Finally decided to see what all the fuss is about -- and it's about a pretty awesome story and saga. Worth playing for.
The Given Day
Dennis Lehane
9.0
Fantastic book by a fantastic writer. Full review here.
World War Z
Max Brooks
8.0
Remember the Zombie War? The one that swarmed the earth and left nobody untouched in some way? No? Well, this is the 'oral history' of that and it's close to brilliant in its own, amusing way.
Lush Life
Richard Price
8.0
Price's style makes it hard to immediately sink into the story, but this is a successful crime novel by the writer of Clockers, The Wire and Freedomland.
The Girl With The Dragon Tattoo
Steig Larsson
9.0
Just a phenomenal (debut) mystery novel, from a Swedish writer who apparently died after just three books. Highly recommended, and I'm buying the next one soon.
A Few Seconds Of Panic
Stefan Fatsis
8.0
A very engaging, interesting account of a sportswriter who participates with the Denver Broncos as a kicker - not just to write about the experience but to assimilate into the team and understand that. He's successful on both counts and there are some great insights to the personalities of the locker room, player motivations, etc. (Calling Mike Shanahan 'Coach for Life' turned out to be quite premature, however. :))
What I Think About When I Think About Running
Haruki Murakami
7.5
A memoir, focused around his passion for running (he runs at least one marathon per year) and how it relates to his writing and way of thinking. Interesting and often amusing, it's not heavy lifting but still good stuff.
The Genius: How Bill Walsh Reinvented Football and Created an NFL Dynasty
David Harris
8.0
First, I miss Walsh and the good years of the Niners. So it was great in that respect, even detailing some games I remember vividly, and some I'd forgotten about. It does delve into his personal life, which I'd known little about, but is largely focused on football. Very well done.
A Firing Offense
George Pelecanos
5.5
An obviously early mystery for Pelecanos -- it helped establish him as the great writer he is now, but it feels dated and not particularl special. He's definitely grown as a writer.
Cryptonomicon
Neal Stephenson
9.0
I shied away from it for two main reasons - Stephenson is known as a sci-fi writer, and it's over 900 pages. Neither mattered - it's phenomenal. Full review to come.

2009

2009

2009

2009

The Brass Verdict
Michael Connelly
8.0
First, there's a nice twist in that his main character, Harry Bosch, is a secondary character instead of the narrator. Then, a very entertaining and compelling mystery with an additional twist at the end that promises more. Can't ask for that much more.
People Of The Book
Geraldine Brooks
9.0
A great, riveting novel about a Haggadah found in Sarajevo, and it's trace through history -- all told in a casual, modern fun story about the woman tasked with restoring it. I feared this might be dry but it was anything but. Makes me want to read more by this Pulitzer Price winning author.
A Wild Haruki Chase: Reading Murakami Around The World
The Japan Foundation (collected)
6.0
I'm not sure exactly what I was expecting, but this does contain some interesting articles about Haruki Murakami, a great collection of international book covers ... and some academic papers that I really had no interest in reading.
The New Kings of Nonfiction
Ira Glass (editor)
7.5
Largely really good previously published essays and articles by some of my favorite writers (Malcolm Gladwell, Chuck Klosterman, Michael Lewis). Small points off for a few misses plus one or two I realized I'd already read elsewhere.
Good People
Marcus Sakey
7.0
Sakey's least satisfying effort, it's still a good suspenseful novel and enjoyable.
The Elephant Vanishes
Haruki Murakami
6.5
A somewhat uneven collection of stories, including what evolved into the first chapter of The Wind-Up Bird Chronicle, it's enjoyable but obviously done prior to hitting his stride.
Travels In The Scriptorium
Paul Auster
5.5
A disappointment from one of my favorite authors, Auster is overly cute here and worse yet, not all that interesting. Next!
The God Delusion
Richard Dawkins
N/A
Did Not Finish -- as much as I wanted to like this, Dawkins is pretty boring and proud of himself and it's not a great read. Oddly, the only book I started but didn't finish in 2008.
Nixonland
Rick Perlstein
9.5
Absolutely fascinating account of American politics from 1964-1972 in particular, with Richard Nixon paving the way for the morass that things have largely become. Full review here.
At The City's Edge
Marcus Sakey
9.0
Fantastic second novel by Sakey, a mystery thriller set in Chicago. Sakey is right up there with Lehane, Pelecanos and Connelly in terms of being the best in this kind of novel.
The Crying of Lot 49
Thomas Pynchon
4.5
Probably worth reading, but well past it's prime and far too clever for its own good. But I'm glad to notch this one as being finally read.
The Nine
Jeffrey Toobin
8.0
Really interesting non-fiction account of the Supreme Court, notably the last thirty years or so. Well worth reading.
The Complete Persepolis
Marjane Satrapi
9.0
Brilliant graphic novel (now a film) about a young woman growing up in and out of Iran during the Islamic Revolution.
The Blade Itself
Marcus Sakey
9.0
Phenomenal. If you like gritty crime novels, Sakey immediately jumps into the landscape here. Just a shockingly good book that is impossible to put down.
The Ha-Ha
Dave King
7.5
An uneven but overall beautiful story about an adult male who lost the power of speech and writing in Vietnam, and how his life changes over a short period of time almost 30 years later.
Cooked: From the Streets to the Stove, from Cocaine to Foie Gras
Jeff Henderson
7.0
Certainly an interesting life (from crack dealer to gourmet chef) but that should be slightly more compelling than it was. And the foodie in me wanted more details about the cooking.
Rigged
Ben Mezrich
7.0
As always, Mezrich is very "readable" but this was my least favorite of his. But I want to go to Dubai.
In Defense of Food
Michael Pollan
7.5
Not nearly the level of "Omnivore's Dilmena" it is still very good and a sad account of what has happened to our food and the way we eat it.
The Design of Everyday Things
Donald A. Norman
9.0
Review
The Wisdom of Crowds
James Sureowicki
7.0
Reading it five years after it was written, its insights aren't as new to me as it would have been back then. But still, interesting tings to say about how we learn and operate.
Sputnik Sweetheart
Haruki Murakami
7.0
While enjoyable, it's probably my least favorite Murakami. It felt a bit sophomoric and undeveloped. Still very good, though.
Drama City
George Pelecanos
7.0
Straight ahead crime story - sad, honest truth about D.C. ("Drama City") from a great author.
Ugly Americans: The True Story of the Ivy League Cowboys Who Raided the Asian Markets for Millions
Ben Mezrich
8.0
Quite good account of Western bankers running rampant in Southeast Asia in the 1980s and 1990s. Mezrich is unbelievably readable.
Team of Rivals: The Political Genius of Abraham Lincoln
Doris Kearns Goodwin
9.0
Review
Jennifer Government
Max Barry
7.0
Not as good as

Company

, still a biting satire about our corporate culture.
Exile
Richard North Patterson
4.5
Review
The Year of Living Biblically
A.J. Jacobs
7.5
Not nearly as engaging as The Know It All, this memoir of Jacobs trying to live by the literal rules of the Bible is still quite entertaining.
Bridge of Sighs
Richard Russo
8.5
Outstanding - which seems to be par for the course for Russo. Woefully underrated author.

2008

2008

2008

2008

Perfect From Now On: How Indie Rock Saved My Life
John Sellers
8.0
A funny memoir detailing the author's fascination with my own favorite genre of music.
Citizen Vince
Jess Walter
8.5
A very compelling account of a former gangster, set amidst the 1980 election.
The Echo Maker
Richard Powers
7.5
Review
Committed
Mark St. Amant
6.5
Silly but fun read of an obsessed fantasy football fan. Ahem.
A Spot of Bother
Mark Haddon
6.0
Disappointing follow-up to 'Curious Incident' but a decent story in and of itself.
Dork Whore
Iris Bahr
N/A
Did Not Finish
Hard Boiled Wonderland And The End Of The World
Haruki Murakami
8.5
Really good. Full review here.
Killing Pablo
Mark Bowden
7.0
Good, tight story of the hunt for Pablo Escobar.
The Yiddish Policemen's Union
Michael Chabon
5.5
A disappointment. Full Review
The Overlook
Michael Connelly
5.5
My least favorite Harry Bosch novel; unsurprised to read in the afterword that it originally was a serial of stories fo a magazine. Just felt that way in novel form.
Ladies and Gentlemen, The Bronx Is Burning
Jonathan Mahler
8.0
Wholly entertaining account of New York in the late 1970s.
Hard Revolution
George Pelecanos
6.0
A bit of a letdown, more of a look back and generally not as interesting as his other novels.
Soul Circus
George Pelecanos
7.0
Another good Pelecanos story.
Harry Potter and the Deathly Hallows
J.K. Rowling
9.0
Suprisingly amazing. Didn't realize how attached I'd become to the series until the end of this totally satisfying, moving conclusion.
Hell To Pay
George Pelecanos
7.0
Solid, insightful crime novel by one of the writers of The Wire.
Suite Francaise
Irene Nemirovsky
8.5
Review
The Man of My Dreams
Curtis Sittenfeld
6.0
Review
The Draft: A Year Inside The NFL's Search for Talent
Pete Williams
6.5
It claims to be the NFL version of Moneyball It ain't, but it's not terrible.
The Road
Cormac McCarthy
9.5
Review
The Man Who Ate Everything
Jeffrey Steingarten
N/A
Did Not Finish
Jimmy Corrigan: The Smartest Kid On Earth
Christopher Ware
8.5
Review
The Ghost Map
Steven Johnson
7.5
Review
Then We Came To The End
Joshua Ferris
9.0
Excellent!
after the quake
Haruki Murakami
7.0
Review
Random Acts of Badness
Danny Bonaduce
5.5
Yeah, I read it. So what?
The Wishbones
Tom Perotta
7.5
Good, but clearly an early effort.
Y: The Last Man - Unmanned
Brian K. Vaughan
7.0


Chuck Klosterman IV
Chuck Klosterman
8.0


American Gods
Neil Gaiman
7.5


Company
Max Barry
8.0


The Omnivore's Dilemma: A Natural History in Four Meals
Michael Pollan
9.0
Review
Talking Right
Geoffrey Nunberg
7.0


The Brief and Frightening Reign of Phil
George Saunders
7.5


The Story of My Baldness
Marek Van Der Jagt
N/A
Did Not Finish
Two For The Road
Jane & Michael Stern
7.0


Wait Till Next Year
William Goldman & Mike Lupica
9.0
Review
Blood and Thunder (audio)
Hampton Sides
N/A
Did Not Finish
The Mind of Bill James
Scott Gray
6.5


Love Is a Mix Tape (audio)
Rob Sheffield
6.5
Review
The Nasty Bits
Anthony Bourdain
8.5
Review
The Ruins
Scott Smith
4.5
Review
Shanks for Nothing (audio)
Rick Reilly
7.0
Review
The Reach of a Chef
Michael Ruhlman
7.0


Special Topics in Calamity Physics
Marisha Pessl
8.5


The Keep
Jennifer Egan
8.5
Review
Candyfreak
Steve Almond
6.5


Hour Game (audio CD)
David Baldacci
6.0


The Collectors
David Baldacci
N/A
Did Not Finish
Housekeeping vs. The Dirt
Nick Hornby
7.5


Heat
Bill Buford
8.0


Wild Fire
Nelson DeMille
7.0


Echo Park
Michael Connelly
7.5


Julie and Julia
Julie Powell
7.0


Consider The Lobster: And Other Essays
David Foster Wallace
8.0


The Night Gardener
George Pelecanos
8.5



2007

2007

2007

2007

Candy Girl: A Year In The Life of an Unlikely Stripper
Diablo Cody
6.0


The Final Solution
Michael Chabon
6.0


Honeymoon With My Brother
Franz Wisner
7.0


Blue Latitudes
Tony Horowitz
7.5


The History of Love
Nicole Krauss
8.5


Dance, Dance, Dance
Haruki Murakami
8.0


Touching The Void
Joe Simpson
6.5


The Know It All
AJ Jacobs
8.0


The Blind Side
Michael Lewis
9.0
Review
Ender's Game
Orson Scott Card
6.5


Battle Royale
Koushon Takami
7.5
Review
John Adams
David McCullough
8.5
Review
Florence of Arabia
Christopher Buckley
6.0


No Way To Treat A First Lady
Christopher Buckley
7.0


Never Let Me Go
Kazuo Ishiguro
9.0
Review
Shadow Of The Wind
Carlos Ruiz Zafon
8.5
Review
The Tipping Point
Malcolm Gladwell
8.0


Everything Changes
Jonathan Tropper
7.0


The Book of Joe
Jonathan Tropper
8.5
Review
You Look Nice Today
Stanley Bing
6.5


Never Mind The Pollacks
Neal Pollack
8.0


A Ship Made of Paper
Scott Spencer
7.5


A Wild Sheep Chase
Haruki Murakami
7.0


A Year In Provence
Peter Mayle
7.5


Norwegian Wood
Haruki Murakami
8.0


The Revolution Will Not Be Televised
Joe Trippi
8.0


Conviction
Richard North Patterson
6.5


Chasing The Dime
Michael Connolly
7.0


The Girls of Summer
Jere Longman
N/A
Did Not Finish
The Truth (with jokes)
Al Franken
8.0


The Defining Moment: FDR's First Hundred Days
Jonathan Alter
8.0


Prep
Curtis Sittenfeld
7.5


blink: Think Without Thinking
Malcolm Gladwell
8.5


How To Make Love Like A Porn Star
Jenna Jameson
7.0


Freakonomics
Steven Levitt and Stephen Dubner
8.5


Lucky: A Memoir
Alice Sebold
N/A
Did Not Finish
Twelve
Nick McDonell
7.0


The Year of Magical Thinking
Joan Didion
7.5


Fantasyland
Sam Walker
8.5


The Wind-Up Bird Chronicle
Haruki Murakami
8.5
Review
The Lincoln Lawyer
Michael Connolly
7.0


House of Bush, House of Saud
Craig Unger
8.0


Lost Lake
Phillip Margolin
5.0


Fraud: Essays
David Rakoff
N/A
Did Not Finish
Freedomland
Richard Price
7.0


Three Junes
Julia Glass
8.5


Crashing The Gate
Markos Moulitsas Zuniga and Jerome Armstrong
7.0


The Dante Club
Matthew Pearl
8.0


The Fruit of Stone
Mark Spragg
8.0


Love Monkey
Kyle Smith
7.0


Lucky Girls
Nell Freudenberger
N/A
Did Not Finish
The Devil In The White City
Erik Larson
7.5


The Unthinkable Thoughts of Jacob Green
Josh Braff
6.5


What Was She Thinking? Notes on a Scandal
Zoe Heller
N/A
Did Not Finish
Kafka On The Shore
Haruki Murakami
9.5
Review
Who's Your Caddy?
Rick Reilly
7.5


The Los Angeles Diaries
James Brown
7.5


I Have Chosen To Stay and Fight
Margaret Cho
5.0


Look At Me
Jennifer Egan
8.0


Dreams From My Father
Barack Obama
8.0
Review
The Best American Sports Writing 2005
Mike Lupica (editor)
7.0
Review
Live from New York: An Uncensored History of Saturday Night Live
Tom Shales and James Andrew Miller
6.0
Review
Triangle: The Fire That Changed America
David Von Drehle
5.0
Review
Fatherland
Robert Harris
7.0
Review
Extremely Loud and Incredibly Close
Jonathan Safran Foer
9.0
Review
The Brooklyn Follies
Paul Auster
8.5
Review
Killing Yourself To Live
Chuck Klosterman
6.5
Review
The Patriots Club
Christopher Reich
5.5
Review
Jonathan Strange & Mr. Norrell
Susana Clarke
8.5
Review

2006

2006

2006

2006

The Business
Iain Banks
5.5
Review
Blue Blood
Edward Conlon
7.0
Review
Little Children
Tom Perotta
9.0
Review
Spanking The Donkey
Matt Taibbi
7.0
Review
The Last True Story I'll Ever Tell
John Crawford
8.5
Review

October 2005

October 2005

October 2005

October 2005