Yes, It's Another 'Fire Brian Sabean' Rant
Fans of this blog will know I'm no fan of Giants GM Brian Sabean. I've written about him at least 30 times based on a rough search of the archives, and ... well, none of those have been (in my recollection) anything favorable. No, more often than not these are posts like, "How To Politely Call Brian Sabean An Idiot," or "PLEASE FIRE BRIAN SABEAN NOW."

What can I say, subtlety isn't always my thing.


He can use a computer? I'm genuinely shocked.
Mostly, Sabean is as fault for what he doesn't do as much as what he does -- but the reality is, he's responsible for personnel on a team with perhaps the best starting pitching and the worst starting offense in the league. He's done almost nothing to bolster the offense in the minors aside from
draft a felon
, intentionally give up draft picks and currently, keep
Buster Posey
- rated by many to be no lower than the third best offensive player in the minor leagues - mired in Triple-A.
There are, of course, many good reasons to keep him there. Posey is a catcher and that requires controlling the pitching staff, a complicated process that Posey is just learning.
For whatever reason, Sabean refuses to talk straight with the press or the fans, and incessantly
lies
about some of the worst decisions he's made. Read more, why don't you?
An example - years ago, Sabean signed
Barry Zito
to what - even with Zito's rise from the ashes this season - may
still
be the worst contract in baseball. By all reasonable accounts, he outbid himself and overpaid Zito by a factor that baseball still has yet to match. And,
much like a former President of the United States
, Sabean seemingly has an inability to admit a mistake. He was recently asked about the
Zito signing and said
:
"As much as people think we overpaid, there was another team, in the American League, that offered more."
This has been corroborated by absolutely nobody. Also ... does that make it right? (Answer: Hells to the no.)
This off-season, Sabean signed
Mark DeRosa
, who was coming off surgery that turns out not to have worked. He also signed
Aubrey Huff
, who nobody else wanted and has been capable. He re-signed
Juan Uribe
, who is leading the team in RBIs mainly because nobody else can hit.
And, yes, he re-signed
Bengie Molina
at catcher for $5,000,000.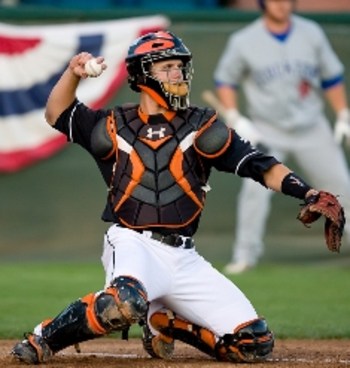 Posey: Not coming to a theater near you.
When asked recently why Posey wasn't being called up to a team that was offensively pathetic, there are a lot of things that an honest man could have said:
Posey simply isn't ready yet - he may be hitting, but he can't call a game.
I have two major league ready catchers, and I'm overpaying one of them (Molina) - and the other, Eli Whiteside, has a really good thing going with pitcher Jonathan Sanchez. We're not sure we want to mess that up.
I want to keep Posey in the minor leagues for a little while longer so that he doesn't become a free agent sooner than later.
Instead, Brian Sabean said something so asine, so idiotic and so damaging that it makes you wonder - not for the first time - why Giants ownership writes this guy such large checks.
He said
:

"Triple-A baseball isn't very good. ... I'm going to tell you that right now, especially from a pitching standpoint. Anybody who can pitch is in the big leagues."
Now, here's the thing -- Sabean really
can't be this stupid.
He has to know how idiotic this sounds. As any casual fan will tell you, at any given time there are some pretty GREAT pitchers in Triple-A. (
Stephen Strasburg, Aroldis Chapman, Madison Bumgarner
are just a few apparently awful pitchers toiling away there right now.) But obviously Sabean doesn't think we know this. He doesn't think we would dare to challenge his authority on this.
In Sabean's defense (and no, I didn't think I'd ever write that phrase), he goes on to say that the 'real' prospects are in Double-A, and certainly a lot of clubs do bring those types of prospects up directly as often as they move them up to Triple-A. Well, that's at least how he
starts
trying to explain himself, only to fail miserably:
Most of the prospect arms, the stuff that really can neutralize hitters, are at Double-A. You look at what some of our (struggling hitting) prospects are doing there. So these guys (like Posey) are facing Four-A pitching, and you better have a lot of people see 'em at different times and write their reports and almost have a straw poll of private ballots. Because I don't know what it means anymore, in the PCL. It's almost like years ago.
The FLYING SQUIRRELS. Auce.
So, fantastic motivation here, boss. In one fell swoop, you insult the entire pitching roster of your Triple-A team (that'd be the
Fresno Grizzlies
) ... but you also decide to talk about how crappy your Double-A
hitters
are, too! (That'd be your
Richmond Flying Squirrels
, and that, frankly is awesome. I may need to acquire some merch.)
But what he also doesn't care about is how offensive this is to the very players in his own organization. How, exactly, would you feel if you were Bumgarner, someone who almost made the team out of Spring Training? According to the guy who signs your checks, you aren't very good. You can't pitch, or you'd be in the big leagues.
Don't take my word on this, take a former minor leaguer from the Giants system named
Garrett Broshuis
, now writing an excellent blog called
Life In The Minors
.
Here's his take
:
I'm going to begin this by saying that I don't really know Brian Sabean very well. For this reason, I can't tell you whether or not he has an IQ above 75, or whether or not he has a thing for 80s rock and margaritas. I'd just be making that stuff up.

Sure I played in the minor leagues for 6 years in the Giants' organization, but I never had any contact with the general manager. Why would I? I was in the minor leagues. I was useless. [snip]

If Sabean had said that Triple A pitching, as a whole, on average, is not as good as big league pitching, I would have no problem with that. That's why it's Triple-A baseball and not the big leagues. If he'd said that offensive numbers are inflated in the PCL since it is a hitter-friendly league -- especially in the division that Fresno plays--I would have no problem with that. That's clearly true.

But instead Sabean decided to say that Triple-A baseball is just not good period, and especially the pitchers. He managed to not only belittle the performance of Posey, but to belittle the performance of all his minor league pitchers and catchers. He did this all in a couple of sentences. It's not easy to make that many people feel like crap in so short of a time span, but Sabean managed to do it. That takes real talent.
As the kids say, "Word."
Look, Brian Sabean has painted this team into a corner by simply not being able to evaluate or sign offensive talent. Instead of doing something about it, he's just made the situation worse and worse. The list of mediocre veterans past their prime that Sabean has either signed or traded for
and
woefully overpaid is astonishing, horrifying and well documented. The current roster includes the following who match that description: Zito, Molina,
Freddy Sanchez, Edgar Renteria, Aaron Rowand
. If you include
Mark DeRosa
, which I just might, you are talking about
$58.6 million
dollars in salary this year - just under 60% of the total payroll. As Billy Crystal imitating Sammy Davis, Jr., might say --
"Ouch, babe."
In terms of offensive development, the current roster is led by
Pablo Sandoval
, who despite his struggles has outperformed expectations - while he was considered a good prospect, nobody imagined he would have an All-Star caliber season in 2009, and show the potential he has.
Andres Torres, Nate Schierholz
and
John Bowker
all have the potential to contribute, but it's not clear that any of them have more upside than being a solid player, not a great one.
Fire me! I double dog dare you!
In contrast,
Buster Posey
was a no-brainer draft pick, one that some said could have gone first overall in the 2008 Draft, but fell to the Giants with the fifth overall. I'll certainly give Sabean credit for making the pick, but given his history it seems wholly out of character for Sabean to actually make rational choices. Posey is hitting the snot out of the ball and will be a major leaguer quite soon. I'm not saying that time is now - as noted, there are plenty of acceptable reasons to delay the move for a short while. But Brian Sabean apparently would rather treat Giants fans like idiots. That's just unacceptable.
I feel quite strongly that Brian Sabean needs to be fired. I'm not alone in this. But if that's not going to happen, at the very least he needs to learn some common manners and respect for the people that pay his salary.