A Visit From The Goon Squad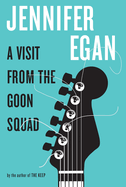 Jennifer Egan is slowly identifying herself as one of my favorite authors, both because of her absolute command of language and scene as well as the fact that none of her books bear much resemblance to each other. It's always unexpected -- from the creepy, prophetically timed
Look At Me
(which involved, potentially, a domestic terrorist and was released just before 9/11), the eerie gothic story of
The Keep
, her lauded first novel
The Invisible Circus
(which I have yet to read) or her latest, one of the best books of 2010,
A Visit From The Goon Squad.
Goon Squad
- the title refers to, among other things, a misremembered expression by one character that "time is a goon" -- follows a set of characters over the course of maybe forty to fifty years, from the West Coast indie punk scene of the early 1980s to some date in the relatively near future. We begin with Sasha, who is working for a record producer and, we learn, addicted to stealing useless things. Through her, we meet her friends, co-workers - and their connections take us to others and back again.
As we move back in time to the
Mabuhay Gardens
(the "Mab") in San Francisco, back to Manhattan, to Europe and Africa, through the years we meet a huge set of characters, and each story is told slightly differently. (One chapter, in fact, is told exclusively through PowerPoint slides.) The story is also not told linearly - we move backward and forward in time without it being expressly acknowledged. In the hands of a less talented author, the technique would overwhelm, and it would be hard to stay engaged throughout. However, Egan connects each piece well enough that one never feels disconnected -- even though I did wonder what happened to a few characters, and wanted to spend more time with many of them than this format allowed, I was always engaged fully with the story. And Egan certainly delivers towards the end, bringing us back to some of the initial characters and story in a way that feels absolutely honest.
One technique she uses is by - in the middle of a passage - telling us how some of these characters will end up (so we never have to revisit them) and I loved the surprise of these moments. Here's one that takes place during a chapter detailing an African safari that one of the main characters is on with a girlfriend and numerous others:
The members of Ramsey's safari have gained a story they'll tell for the rest of their lives. It will prompt some of them, years from now, to search for each other on Google and Facebook, unable to resist the wish-fulfillment fantasy these portals offer: What ever happened to...? In a few cases, they'll meet again to reminisce and marvel at one another's physical transformations, which will seem to melt away with the minutes. Dean, whose success will elude him until middle age, when he'll land the role of a paunchy, outspoken plumber in a popular sitcom, will meet for espresso with Louise (now a chubby twelve year-old from the Phoenix Faction), who will Google him after her divorce. Postcoffee, they'll repair to a Days Inn off San Vicente for some unexpectedly moving sex, then to Palm Springs for a golf weekend, and finally to the altar, accompanied by Dean's four adult children and Louise's three teenagers. But this outcome will be the stark exception -- mostly, the reunions will lead to a mutual discovery that having been on safari thirty-five years before doesn't qualify as having much in common, and they'll part ways wondering what, exactly, they'd hoped for.
As evidenced above, despite some (many?) tender moments, it's not a particularly upbeat novel -- the characters are all somewhat lost, anxious and disconnected. The story has no shortage of tragedies either, both personal and thematic. But
Goon Squad
is so compelling, so wholly unique, and ultimately
fulfilling
that it's easily one of the best novels I've read this year, and one of the better books I've read in recent years. Go get it.
Rating: 9.0/10.0