Douchenozzle of the Year?
Luke Scott
made news last year by introducing himself to folks outside of Baltimore (where he plays for the Orioles) by
questioning whether or not President Barack Obama was really born in the United States
and teetering on the edge of a lot of not very veiled racism. It made some news on a few sports blogs, and Twitter, and it was good off-season fun to poke fun at a guy who, despite being called a "star" in the linked article above, isn't much of one and has every right to his own misguided opinions.
But this,
via Deadspin
, is worse. In an interview with ESPN, the Sports Leader essentially apologizes for his behavior with lines like this:
Scott is one of baseball's most complex characters. His questions about President Barack Obama's U.S. citizenship put him in headlines during an otherwise-quiet offseason. He speaks bluntly and with heavy opinions. He's fluent in Spanish and loves Latin culture, but in the clubhouse, he'll make potentially inflammatory comments to a Latino player who is his best friend -- throwing plantain chips at him to keep him in line. He wears religion on his sleeve.






Given all that, the simple assumption is that Scott is a right-wing nut, a borderline racist and a loudmouth redneck ballplayer who should keep his mouth shut.






But it's not that simple. Luke Scott will require a deeper line of thinking.
Will he? It doesn't really seem like it.
"

[Outfielder] Felix [Pie] is my friend," he says. "I give him a hard time. The reason why I give him a hard time is because there are certain people you deal with and you go up and talk to them, and it doesn't work. They don't understand.






"I tell him about some of the ways he's acted: 'Look, you're acting like an animal, you're acting like a savage.'"




Scott turns to his locker and pulls out a bag of plantain chips.






"So I throw bananas in his helmet. Here are my banana chips to remind him that whenever he acts like an animal, 'Hey, that's what other people are thinking. They're just not telling you, but that's what they're thinking about. And I'm telling you so that you're aware of that so you can make a cognitive decision to not behave like that.' I would want someone to tell me that instead of letting you making a jerk of yourself."
The word you are looking for is ... "WOW."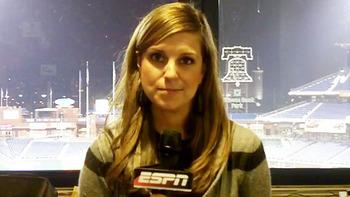 Again, good for him - he's proud of his beliefs, however ignorant they may be. (Read the whole article to learn more about this backward ass shithead, if you wish.) But why glorify it? Let's forget the part where Amy Nelson counters Scott's incorrect, ignorant belief that Obama is not from this country by saying

"

with some bloggers saying that evidence Obama was born in Hawaii is overwhelming..." - that's just sloppy and pathetic. But it's just much, much worse:
Nelson suggests in her lede that Luke Scott "will require a deeper line of thinking" so that we may get past the simple perception that the Orioles outfielder is a "a right-wing nut, a borderline racist and a loudmouth redneck ballplayer." And then she proceeds to write a remarkably detailed profile of a "a right-wing nut, a borderline racist and a loudmouth redneck ballplayer" who keeps pistols in his couch cushions. She devotes approximately 3,490 words to a story about an ignorant asshole and 10 words to trying to convince both herself and her readers that he is anything but.





There is nothing especially wrong with being a colossally ignorant asshole; baseball, and the world, is full of them. It's not Luke Scott's job to be a sensitive guy, and it's not his job to be informed about anything other than how to play baseball. But nor is it an ESPN reporter's job to mislead her readers in what, to these eyes, looks like a clumsy attempt not to offend the sensibilities of some of them.
So, congratulations - the douchenozzle of the week, month and potentially year goes to ... NOT Luke Scott, but Amy Nelson of ESPN! That's solid work for so early in the season.
Good on ya, mate.