Please Help Me Pull My Jaw Back
In which Greebs gleefully joins the ranks of those who think Keith Olbermann is a complete buffoon:



As even casual readers of this here blog could tell, my politics fall on the left side of the aisle and I think that so-called 'pundits' like
Glenn Beck, Sean Hannity, Bill O'Reilly
and
Rush Limbaugh
are some of the very worst elements of the national media. That said, while I agreed with
some
of
Keith Olbermann
's views (those I heard about), I almost never watched his program before he resigned (or was fired, or whatever). That kind of bolsterous "entertainment" is just nothing of the sort.
But Olbermann, of course, began in sports on ESPN and long ago started a blog for MLB that occasionally is interesting, so I have it in my Google Reader and sneak a peek from time to time. A lot of it is arcane but sometimes fun data, others are boring tales of him visiting the old Yankee Stadium before it was torn down.
Recently, he started doing a look ahead at the 2011 season, and I happened upon his
preview of the NL West
. Naturally, as a Giants fan, I was intrigued. The good? He picks the Giants to win the NL West, win a first round playoff game but lose to the Braves in the NLDS -- hey, it's not an insane prediction. But the following simply makes no sense to me:
But I must say this: the Giants are rapidly becoming one of the most disliked teams in baseball – and not just because of the silly boastfulness of the ring ceremony and the rest. No World Championship team has ever been feted by fans who have been worse winners than have the 2010 Giants. I mean Red Sox Nation didn't gloat this much like this after '04. It's understandable that a franchise that saw that much frustration and even peril might continue to celebrate for years to come, but there is a reason they coined the phrase "act like you've been there before."
Let's be clear -
a Yankees fan
is aghast at a team celebrating victory, and boasting about winning a single championship. If I had a dollar for every time a Yankees fan recited the number of World Series rings they had, I'd be a rich man - is that what acting like you've been there before means, Keith?
I lived in Manhattan for two years - and one of them included the 1996 Yankees World Series win. That was the 23rd World Series ring the franchise had earned - and the city went insane. Keith Olbermann undoubtedly enjoyed the moment.
And what I remember most of all? (Well, actually I remember a grown man in a full Yankees uniform sobbing with joy and vomiting, and sobbing some more in a sports bar in Chelsea.) But on a longer term, I remember that Yankee fans started reminding me - whether it was relevant or not - that they'd won
23
championships, not the 22 they'd been yammering about the year before.
Hey, they had suffered - it had been eighteen years since their last championship - they missed the entire 1980's, right? (For comparison, of course, the Giants had 56 years in between championships, and had never once won as the San Francisco Giants. But why should details matter here?)
And you know what I thought about Yankee fans then?
I loved it.
That's what sports are about, and while Yankee fans are only a few steps above Cowboys or Dodgers fans, when you support a great franchise, you get to have some bluster. And you sure as hell enjoy every minute of a championship, because even with great teams, they are fleeting and rare. As a 49ers fan, I've surfed that wave plenty. (Sigh.)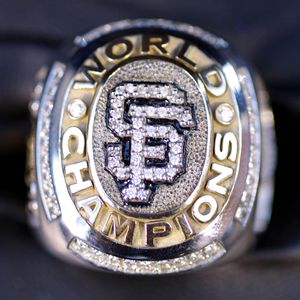 Suck it, Keith.
So, to hear Olbermann tell others to act like they've been there before is among other things, a serious case of horse blinders, it's also kind of confusing. Because ... is this really a national opinion of the Giants? I'm obviously insulated to this out here in the Bay Area, but ... really? Are people aghast at the Giants continuing to celebrate their World Series trophy? If so, I neither have heard it nor understand it.
I'm fairly sure that if you took a national poll of who the most annoying fans are, you'd find answers that included the Yankees, Phillies, Red Sox and perhaps justifiably the Dodgers. I'm possibly crazy but I have to think that at
the highest
, the Giants finish fifth on a list like that and probably much farther down.
It's possible that I'm wrong. But it's a sure damn thing that Olbermann is.