The Oscars are this weekend, and ... I really don't care. I used to - the awards were something special. But now? It's boring, fueled in no short part by the fact that I see a lot less movies these days. But this year, it turns out that I've seen quite a few of the nominated films, so I actually have thoughts on who I'd choose in each category, at least the major ones.

Do you care? I don't know! But here goes anyhow:

Best Supporting Actress

Performances I Didn't See: Jacki Weaver in Animal Kingdom (In fact, I'm not sure what the heck that movie is. I've not hear even a whit about it.) But I did see both Melissa Leo and Amy Adams in The Fighter, Hailee Steinfeld in True Grit and Helena Bonham Carter in The King's Speech. I love HBC, but while her performance was quite solid it was buried by Colin Firth and Geoffrey Rush, who we'll talk about later. It's hard to give an award out for the third best performance in a film. That also eliminates the lovely Amy Adams, who was great but ... Oscar worthy? It just wasn't meaty enough of a role. I'm writing Weaver off because ... again, what the hell is Animal Kingdom? Seriously? It comes down to Leo's amazing performance as the driven, mildly crazy mother in The Fighter, and the remarkable job by Steinfeld in True Grit.*

It says here that the award will go to Melissa Leo -- whose created a true character that is one of the main charms and strengths of the film; it's a performance worth rewarding and Leo is someone I think the Academy would like to reward. But personally, after thinking about it, I have to give this to Hailee Steinfeld. She genuinely carried the film, and it's not an easy character - a girl barely in her teens who speaks in a formal, halted manner that simply can't have come naturally. Without her, that movie collapses -- and she handily deserves the award.

* (And yes, the fact that Steinfeld is nominated as Best Supporting Actress, since she's in, I believe, every single scene in the movie. Jeff Bridges isn't, but he's nominated as Best Actor. That's a decision the filmmakers made, but it's ridiculous that it's allowed.)

Best Supporting Actor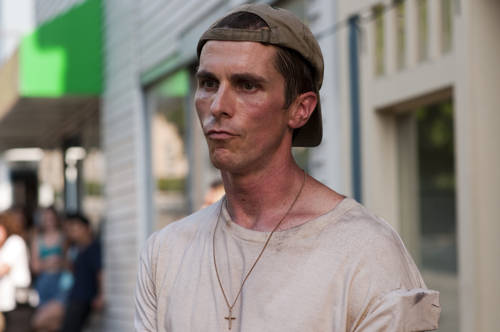 Performances I Didn't See: Jeremy Renner in The Town. The remaining four were all great performances, though I think Mark Ruffalo had the easiest job in The Kids Are All Right, and I've seen him do better elsewhere so I'm crossing him off the list. I also think Renner is out of it since The Town was the fluffiest of all the films, and this is 'serious business.' Geoffrey Rush gave a great performance in The King's Speech, and it's exactly the kind of performance the Academy loves to reward. My wife feels strongly that the guy who deserves this is John Hawkes, who I agreed was flat out brilliant in Winter's Bone. I almost agree with her - Hawkes (who I didn't recognize as Lennon from LOST). But I think the mortal lock here is Christian Bale in The Fighter. It's a dominating, unique and indelible character and Bale knocked it out of the park. Bale is one of my favorite actors and despite (or because of) his noted temper, I think the voters think he's overdue. They're right.

Best Actress


Performances I Didn't See:
Nicole Kidman
in
Rabbit Hole
,
Michelle Williams
in
Blue Valentine
. Neither seems poised to win. Nobody seems to be giving
Jennifer Lawrence
from
Winter's Bone
much of a chance, which is a shame; her performance is top-notch and unusual, and in many years she'd probably win. But the talk seems to be about
Annette Bening
from
The Kids Are All Right
and
Natalie Portman
in
Black Swan
. Bening's odds are based on a very good performance as well as an acknowledgement that she's never won before. She may yet win - but, while she was very good, I don't know anyone who has seen the movie who doesn't agree that
Julianne Moore
was just as good and as much of a lead role as Bening. But, the trend seems to be leaning towards
Natalie Portman
, and perhaps it's because I so recently saw
Black Swan
, but I have to agree -- Portman is amazing, and the role is maniacally difficult. Her tortured mania was perfectly controlled, and she seemed plausible as a ballet dancer even if I know nothing about that sort of thing. I thought about Portman and the film for days after I saw it, and I can't say that - even a little - about Bening. This one goes to Queen Amidala.
Best Actor
Performances I Didn't See:
Javier Bardem
in
Biutiful
,
James Franco
in
127 Hours
. I've heard that Franco is great and has a shot at the award. I'm doubtful, but I can't say whether it's justified or not, so let's move on. The remaining nominees are
Jeff Bridges
in
True Grit
, but to me that's barely a leading role and he just won last year. It's not gonna happen. I really think that
Jesse Eisenberg
deserves not only his nomination but to win - he absolutely defined this role, making a misanthropic, selfish loner into a fascinating character we end up rooting for, even as we never grow to like him. It's hard for me to think of Mark Zuckerberg and not picture Eisenberg instead. But I think instead the award will go to
Colin Firth
, who is truly incredible in
The King's Speech
. When he stutters, it's real and heart-breaking; his interactions with Geoffrey Rush are classic and captivating, and it's not until after the film that you realize how much you've invested in
Best Director
Nominated:
David O. Russell, The Fighter; David Fincher, The Social Network; Joel and Ethan Coen, True Grit; Darren Aronofsky, Black Swan; Tom Hooper, The King's Speech
. First of all, that's a pretty nice set of directors. I know some are up in arms about Christopher Nolan being left off for
Inception
, but ... dude. It was well directed but sort of a slop of a film that got stupider every time I thought about it. Of the nominees, I think the Academy will give it to one of my favorite directors who turned in yet another brilliant film -
David Fincher
for
The Social Network
.
Best Picture
I Didn't See:
127 Hours
. Seriously, I saw NINE films nominated for Best Picture. How about me? The remaining nominations:
Black Swan; The Fighter; Inception; The Kids Are All Right; The King's Speech; The Social Network; Toy Story 3; True Grit; Winter's Bone
. I think the fight here is between
The King's Speech
and
The Social Network
. As I understand it,
The King's Speech
has won a lot of the other award shows, and that supposedly means it's the favorite to win the Oscar. Perhaps - it was certainly great, and as good of an example of what great writing, acting and direction can do - because the plot itself is somewhat shockingly banal. (A member of British royalty has...a speech impediment!)
But frankly, the same can and should be said about
The Social Network
, a movie about ... the creation of a website. And wait! It's about the lawsuit over that very web site! It's an incredible script (for which
Aaron Sorkin
is likely to win his own Oscar), with great performances and direction. (Lost amidst the other snubs is
Andrew Garfield
as Eduardo Saverin. He was hugely integrated to the film, and was fantastic.) Of all the films nominated, it's probably the most well developed, most complete film. While I also loved
Winters Bone
and
The King's Speech
, I can't quite say the same about those films. It's a resounding success, and while it may not win on Sunday, it should.
Anyway, that's what I think.