The 49ers Offseason: Alex, Lose The Tude
It occurred to me late during the 2011-2 49ers season that I'd barely written about the amazing season they were having, and had. Mostly, that was because I wasn't writing about much at all, for a variety of reasons, but also it's a lot easier to write about things you are upset about (see: Singletary, Nolan, etc.) than a great season you don't want to jinx.
And if that isn't the dictionary definition of a "blog," I don't know what is.
But, it's true - and it was an
amazing
year, and one that positioned the 49ers so well for 2012, despite a much tougher schedule and improved division. I'm eager to see what they do in the draft, but I'm encouraged by the fact that they've re-signed their entire defense, and added
Randy Moss
and
Mario Manningham
to the receiver core, losing
Josh Morgan
for a much higher price than the two combined. I'll take it.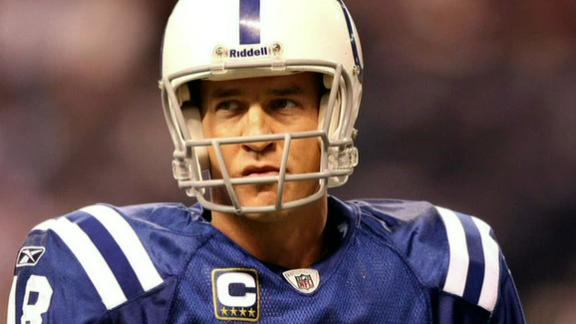 Of course, I'm ignoring the most important position on the field because the Quarterback position remains unfilled as of this signing. The 49ers somewhat surprisingly entered the
Peyton Manning
sweepstakes - how it began is currently and probably terminally unclear -- even while an offer to
Alex Smith
was out there on the table. Peyton decided he didn't want to play for the best team, and was reportedly uncomfortable playing his brother (reports framed it as him wanting to meet Eli in the Super Bowl, which is a lark). I honestly can't stomach any good reason why someone would choose the Broncos from a competitive standpoint aside from the fact that the AFC overall is much weaker. But things change - I'd rather go to a better team in a tougher division than try to squeak in on a lark.
ANYHOW, it's left the team without a starting QB because Alex Smith never signed his contract, and reportedly feels slighted by the team. He flew to Miami, seemingly out of real interest but also to exercise some leverage over the team. Instead, the Dolphins chose
DAVID GARRARD
over him (yikes), and was reportedly headed to Seattle before they chose to sign a guy with two starts under his belt in
Matt Flynn.
There's probably one team aside from the 49ers who don't have a plan at QB, and it's the Cleveland Browns who don't even seem interested.
Leverage, GONE.
I fully expect the two to reconcile and I actually doubt the team will throw some pity money at him the way the Jets did with
Mark Sanchez
after the Jets much less publicly courted Manning. But I'm more than a little miffed that Alex Smith is put out by what has happened.
Look, he should be competitive and he should feel like he still has something to prove. He was mishandled by his coaches for years with the team and dealt with some truly incompetent head coaches in particular. But the team stuck with him, paid him millions and - while they didn't keep him always in the starting gig, they never cut bait.
Last year, Jim Harbaugh
transformed
Alex Smith; he knew he could make him successful, and he did - without the benefit of a true offseason. He barely unleashed his offense, both to minimize Alex's flaws but also to account for the lack of team preparation with the lockout.
Without Jim Harbaugh, and the faith of the team, Alex Smith is
Tavaris Jackson
,
Rex Grossman
or
Kyle Orton
. He wouldn't have a clear starting job this year and he'd be making even less money. I'm not saying he should be grovelling, but he certainly has very little right to feel disrespected. Peyton Manning is one of the all-time greats, a surefire Hall of Fame QB. Alex Smith is ... a competent QB who could potentially thrive in the right system, with the right coach.
I have all hope that he can and will lead the Niners to greatness this year. I'll be as happy for him as I was for Steve Young and of course Joe Montana when they won their titles. (And when Colin Kaepernick wins his.)
But ... lose the 'tude, Alex. It doesn't look good on you.