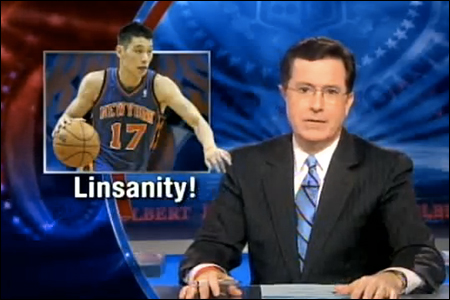 Unless you have been living under a rock, you know that
Jeremy Lin
is currently lighting up the New York Knicks, having won his first six - whoops, make that seven now -- starts and putting up All-Star numbers while doing so, including a game-winner in Toronto the other night. This is notable because of what Lin is, and is not.
He is not:
A top draft pick in the NBA. In fact, he wasn't drafted at all. He was waived by the first two teams that signed him as a free-agent (Golden State, Houston), and is only getting regular playing time with the Knicks because of injuries
He is:
A graduate not of a "basketball factory" but instead of the Ivy League, specifically Harvard - that has no athletic scholarships, etc.
An Asian-American
These last two factors seem to be particularly resonant with people, who assume that anyone "like" this is destined for science, or math, or something decidedly NOT a star point guard playing in Madison Square Garden. It's a slap in the face to our stereotyping and assumptions as well as the thought that if you don't fit a certain mold, you are doomed.
That said, it's hard
not
to root for Lin, who seems like a truly nice guy and is clearly a gifted if unconventional athlete. His success has spawned some interesting things - columnists and athletes like
Jason Whitlock
and
Floyd Mayweather
tweeting unsubtle racist thoughts about Lin, and others falling over themselves to appreciate the "Lin-Sanity." People love this story because Lin should NOT be succeeding, but he is. He's a true underdog, and who can't get on board with that?
Before the predictable comparison begins, this is NOT the same as with Tim Tebow. Tebow won two national championships, a Heisman Trophy and was a first round draft pick. While many didn't think he would succeed, he is almost the very anti-thesis of an underdog. OK, done.
But ... then I see something like THIS from a columinist I respect, Tim Kawakami:
My boss asked if Jeremy Lin might be the biggest story in NBA history & I actually had to think for a second. It's not, but still.
— Tim Kawakami (@timkawakami) February 15, 2012
Are you KIDDING me? I think even if we cut Kawakami - or, more specifically, his boss - some slack, they are talking about this as a "story" not necessarily the greatest thing that has happened. But I'm not even a big basketball fan and I can list a few -
Willis Reed, Michael Jordan
retiring AND Michael Jordan returning after retirement,
Magic Johnson
having to leave due to HIV ... seriously, if those happened in the world of Twitter, it'd be bonkers. And it's not like there aren't corollaries for this - didn't anyone watch
Rudy
or
Miracle
? C'mon, people.
And that, more than anything, is why I think the Jeremy Lin story - again, a GREAT story that is still unfolding - is important. It points out not only our desperate need for a hero, and an underdog hero at that, but perhaps more importantly, it points out
our complete and total lack of perspective
.
Remember a few years ago when the Saints and Colts were playing in the Super Bowl? Most of the pregame talk - before the Colts LOST - was whether or not
Peyton Manning
was due to be considered the greatest QB of all-time, an idea that despite his greatness seems like folly just a few years later. Before THIS year's Super Bowl, people asked the same question about
Tom Brady.
Again, nobody is asking that now after he lost. (Just in case we aren't clear, the greatest QB of all-time is Tim Tebow. Just kidding! It's
Joe Montana,
obviously.)
Can't we just ... wait? Do we need to make declarative statements that Player A is the best ever, or the worst ever, or one of the greatest ever ... before we have any real evidence.
JEREMY LIN HAS STARTED SEVEN GAMES. SEVEN.
Yes, the Knicks have won all seven of them, but note that I didn't say HE has won all seven of them, right? It's a team sport. But it's SEVEN games...even in this shortened NBA season, that's 10% of the regular season. Part of this is the stage - playing in New York makes a difference, obviously - and part of it is quite obviously that nobody had any expectations that Lin could do this. But if he goes into a slump next week, or gets hurt, or the Knicks start losing because or despite of him, this isn't a story anymore. It's certainly not the greatest story in the history of the NBA. My goodness.
That being said, if the Knicks win a title this year, then yes, it's the greatest NBA story of all-time.